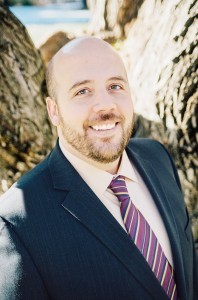 Kirt Bateman was born and raised on a dairy farm in West Jordan, Utah, and is a proud Utahan.  He is an actor, director, and arts administrator.  He currently is exceptionally proud to serve as the Executive Director of the DAVIS ARTS COUNCIL (DAC) in Layton, UT, where his responsibilities include everything from ensuring the restrooms are clean to ensuring the fiscal solvency of the organization's budget to the design, implementation, and quality control of each DAC program.  Since his tenure began in 2008, the DAC budget has tripled and he's added six new staff members to the organization.  He is proud to work side-by-side with the most incredible people in Davis County to "strengthen and enrich that community through the power of the arts."  As an actor, he's worked for most progessional Wasatch Front theatre companies, including (most especially) Plan-B Theatre Company in over 20 full productions, staged readings, and fundraisers. Kirt had a principal role in the independent film, PECULIARITIES and has appeared in several commercials.
Kirt began this career trajectory by spending time in box office environments for Grand Teton Mainstage (Jackson, WY); Desert Star Playhouse (Murray, UT); Broadway In Utah (Salt Lake City, UT), and Utah Opera (Salt Lake City, UT). His next move–after making it as far as Park City on his quest to become a professional actor in New York–would prove to be a life-changing decade working for The Clements Group, L.C. This Salt Lake City-based, but national consulting firm was dedicated to the advancement of the non-profit sector through comprehensive advancement strategies, including planned giving, major giving, special events fundraising, capital campaigns, strategic planning and visioning, economic development initiatives, and others.  He credits Ray Clements, Lana Clements, Amy Clements Pollock, L. Pendleton Armistead, and his other colleagues at the Clements Group for advancing his own understanding of how to support and advance charitable organizations in America. Along the way, Kirt was integrally involved in the structure and building of a small business in the economy of the new millennium.  These combined decade and a half worth of experience set Kirt up to move professionally into his first passion, the arts, taking over reigns of the Davis Arts Council at age 32.
Personally, Kirt lives in Salt Lake City with his partner (now husband) of 20 years, Jerry, his son Oscar, and his dog Stanley.  He comes from a huge (and loving) family with roots extending far back to the founding of Utah. The Bateman Brood now stretches from Logan to Arizona including his incredible parents, 5 brothers/sisters, 20 nieces/nephews, and a group of too-often-growing-to-count great nieces/nephews.
Kirt also has the strong opinion that writing your own biography is a little too close to writing your own obituary.