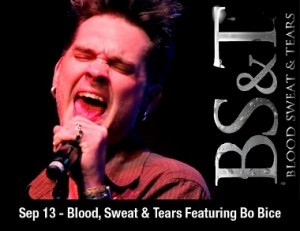 With World Class vocals, musicianship, and a multitude of solid gold hits, Blood, Sweat, & Tears (BS&T) is at the top of their game. Vocal dynamo and pop phenomenon Bo Bice fronts the band with a self-assured voice and good looks.
BST is the band that fused rock, blues, pop music, horn arrangements, and jazz improvisation into a hybrid that came to be known as "jazz-rock". Bobby Columby, original founder and drummer of BS&T, has fielded a team of the best contemporary musicians to create an all-star powerhouse of a band. His vision for the band remains quite simple, "find the greatest musicians and the rest is easy". That philosophy was combined with hit recordings of songs by masterful songwriters such as James Taylor, The Rolling Stones, and Billie Holiday, that have sold tens of millions of recordings.
"I believe BS&T has an iconic stature. It's a style of music," says original founder and drummer Bobby Colomby. "A concept that people are coming to see, along with songs that they're familiar with."
His desire to create a 21st century BS&T brand first began to come into focus when he heard singer Bo Bice performing "Spinning Wheel" on American Idol. Bo Bice was second to winner Carrie Underwood on Season 4 of American Idol. He was certainly a fan favorite for his rock style and unique vocals. He now fronts Grammy Award-winning, BS&T and they tour the country together.
Event Dates
Saturday, September 13, 2014 | 8:00pm
Ticket Prices
Orchestra | $49.00
Reserved | $39.00
General Admission | $26.00