"There has been a change for this night's performance. The Davis Arts Council is grateful to SunShade 'n' Rain for graciously stepping in to perform when BATZ Entertainment cancelled."
Sunshade 'n Rain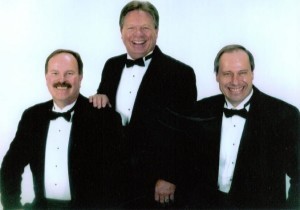 Feelings and memories are stirred no matter what your musical preference might be.  The patriotic, semi-classical, rock-n-roll sounds of the Sunshade 'n Rain will cause a nostalgic stir in your heart.
In 1971 Mel Teeples and Jeff Gregerson formed the group.  Sunshade 'n Rain and toured extensively through the '70s and '80s.  In 1974, Gary Romer formed a group called Change of Pace.  Both performing groups were managed by Joseph Lake and Associates, with artist representation by George B. Hunt and Associates, Hollywood, CA, and were touring and doing television spots simultaneously.
Sunshade 'n Rain and Change of Pace were similar in that their foundations were based on beautiful three-part harmony that enthralled and captivated audiences.  The best of both groups came together to form the new Sunshade 'n Rain.
Now, the beautiful three-part harmony has transcended into a blend that can only be described as magical.  Combining the musical and technical talents of Gary Romer with the powerful harmony of Gary, Jeff, and Mel completes the inspiring package of Sunshade 'n Rain.
They are energetic, enthusiastic, thrilling, and give a performance that lingers in the memory of the audience. Sunshade 'n Rain's love of the total musical experience shines through as they love their audience.
They've shared the stage with many musical legends, including Barbara Mandrel, Gary Lewis and the Playboys, Kenny Loggins, The Carpenters, Bob Newhart, The Lettermen, and more.
NOTE FROM THE EXECUTIVE DIRECTOR:
In the eight seasons of my tenure as Executive Director of Davis Arts Council, Batz Entertainment is the first time we've experienced a cancellation on the Free Sunday Night Concert Series.  I am very, very grateful to Mel Teeples, Jeff Gregerson, and especially Gary Romer (our piano tuner!) for their willingness to fill in on this series at the last minute.  Many thanks, Sunshade 'n Rain! –Kirt Bateman
Event Date: August 16, 2015
Time: 7:00PM
Download a printable version of the 2015 Free Sunday Night Concert Series: SundaySeason2015_PerformanceList