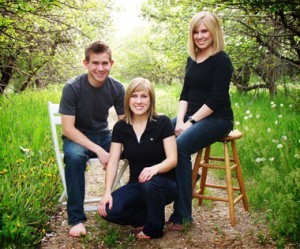 The Cutler Family Fiddlers
The Cutler Family Fiddlers is a violin trio comprised of siblings Heather Hendrix, Ashley Beveridge, and Luke Cutler. Each started playing the violin by age four. Their parents are Kevin and Joy Cutler. Heather is married to Scott Hendrix and works as the Director of Marketing and Communications for Davis Arts Council. Ashley is married to Zac Beveridge and recently received her master's degree. She works for Wasatch Peak Academy as a school counselor. Luke has been accepted to BYU's Animation Program and will begin this fall. They all love performing together, especially at the Kenley Amphitheater!
Pizzicato Strings & Company
Pizzicato Strings & Company is a youth violin group from Ogden with ages ranging from 5-18. They were awarded the 2003 "Best of State" medal for best youth performing group. Their 2015 concert is entitled "A Salute to the Cinema". They will perform music from Harry Potter, Indiana Jones, Pirates of the Caribbean, Frozen, and more. Their director, Peggy Wheelwright, is a member of the Ballet West Orchestra and is concert master of both the New American Philharmonic and Chamber Orchestra Ogden. Peggy has performed back up for many well-known artists including Led Zeppelin, The Moody Blues, and Manheim Steamroller.
Event Date: July 26, 2015
Time: 7:00PM
Download a printable version of the 2015 Free Sunday Night Concert Series: SundaySeason2015_PerformanceList