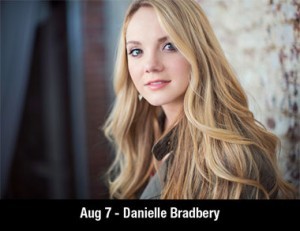 Seventeen-year-old Danielle Bradbery charmed her way into the national spotlight with a mix of Country hits from several decades during Season 4 of The Voice. The reigning star of the NBC hit show has become the youngest winner ever and her coach, Blake Shelton, called her, "the most important artist to ever walk across The Voice stage." The Texas native earned high praise for her performances of classics like "Maybe It Was Memphis" (Pam Tillis), "Born To Fly" (Sara Evans) and "Grandpa (Tell Me 'Bout the Good Old Days )" (The Judds) as well as her duet with Shelton of Patty Loveless' hit "Timber, I'm Falling In Love." Danielle's covers of these top Country songs landed her on the top of the iTunes Country Chart multiple times throughout the season, making her the highest selling artist and youngest in the show's history.
Danielle has been in the studio with acclaimed producers Brett James and Dann Huff and released her first Big Machine Records single "Heart of Dixie" to Country Radio on July 16.
Opening Act: Maddie Wilson
Maddie is a fast rising country music star with worldwide appeal. She has quickly become in high demand with an active and rapidly growing fan base. She is active on social media with over 125,000 fans and followers on Youtube, Facebook and Twitter where she posts music, videos and updates. She is known on YouTube for often "countryfying" pop music.
Maddie's first EP in 2012 landed her with two #1 hits on the Indie Country Charts and named as the #1 International indie artist. Maddies has shared the stage with country stars Chris Young, Lonestar, Jon Pardie, Ty Herndon, Due West and with rock sensation Imagine Dragons. Her soaring vocals have been described as, producing a "sugar rush to the brain" and eliciting "I thought I was in heaven".
Event Sponsors

Event Dates
Thursday, August 7, 2014 | 8:00pm
Ticket Prices
Orchestra | $31.00
Reserved | $26.00
General Admission | $18.00
Event Gallery