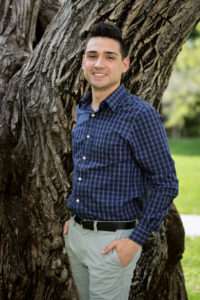 Born and raised in sunny San Diego, CA, Emilio moved to Salt Lake in 2010 for his undergraduate studies at Westminster College. During his undergraduate career, Emilio worked in the performing arts in many capacities, ranging from design and stage management for plays, musicals, operas, and concerts to arts education for elementary and middle school students, to reviewing local productions for the campus newspaper. Off campus, he worked as designer and stage manager for multiple local companies, including Pinnacle Acting Company, Utah Repertory Theatre Company, and Salt Lake City Classical Greek Theatre Festival. In 2014 Emilio graduated with a B.F.A. in Technical Theatre.
After graduation, Emilio moved home to Southern California, but not before spending the summer as a stage management intern for La Musica Lirica, an opera training program in Novafeltria, Italy, where he discovered a passion for the classical art form. In San Diego, Emilio continued his work in education at his alma mater as an academic coach, working with at risk and underperforming students as a tutor and mentor.
In 2015, Emilio moved back to Salt Lake in order to rejoin the performing arts community he missed so much. Upon his return, he joined the staff of the Great Salt Lake Fringe as technical director, before stepping into the role of festival director for the 2016 festival. Emilio, for the second time in his life, has returned to an alma mater of his, not as a student, but as a staff member. Emilio now works as the Assistant Technical Director for Music, Theatre, and Dance at Westminster College where he manages, designs, and builds operas, choirs, orchestras, recitals, plays, musicals, dance concerts, and any other event that comes his way. Since his return, Emilio has shifted the focus of his local freelance work from design and stage management to directing. He has directed world premieres in the Great Salt Lake Fringe Festival, and served as Assistant Director for the Salt Lake City Classical Greek Theatre Festival, Pygmalion Productions, Pinnacle Acting Company, Grand Theatre, and Utah Opera.
Emilio is thrilled to be back with Davis Arts Council's 2017 Summer Nights with the Stars, after having assisted for the 2016 season, and looks forward to a stellar season with his DAC family.