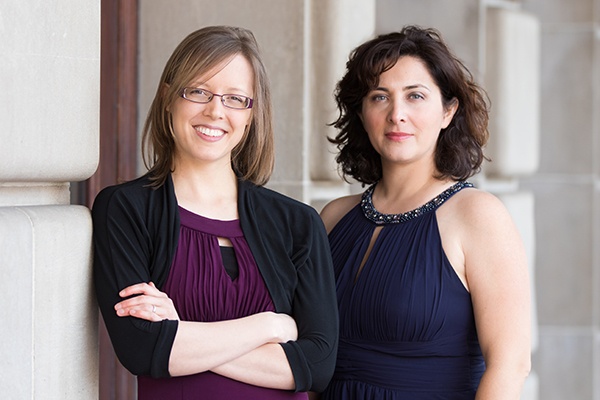 Wilhelm – Wiemer
April 6, 2018 | 7 PM
This performance will take place at the Alpine Church in Layton, UT 254 W 2675 N, Layton, UT 84041 at 7 PM.  Doors open at 6:30 PM.
Moriah and Gerta began collaborating a year ago as doctorate students at the Eastman School of Music. Since then, they
have had the opportunity to perform in many settings and have grown stronger as a partnership. They enjoy each
other's musical styles while exploring new sounds and interpretations.
About Gerta and Moriah:
Moriah Wilhelm Rowe is an accomplished performer of both solo and chamber repertoire. In addition to being a finalist
at the Music Teachers National Association National Competition, she has been awarded first prize at the Utah Music
Teachers Association Concerto Competition and the American String Teachers Association Music Festival. An avid
pedagogue of ten years, Moriah's students have met successes such as being awarded first prize at the University of
Rochester Concerto Competition and matriculating on scholarship to the Frost School of Music. In 2017, she taught as a
visiting professor of violin performance at Weber State University.She is studying with Dr. Bin Huang pursuing a Doctor
of Musical Arts Degree in Instrumental Performance and Literature with a minor in Music Theory at the Eastman School
of Music.
At the age of 14, Gerta Grimci Wiemer competed in the 4th Gina Bachauer International Piano Competition in Salt Lake
City. Since then she has performed as a soloist and collaborator in the USA and abroad. She won the 1st Riverton
Metropolitan Orchestra Concerto Competition, in Utah. She has performed with the Nebo Philharmonic and the BYU
Symphonic Orchestra, as well as numerous chamber groups. She was a faculty member at Weber State University from
2009‐2015, during which time she collaborated with distinguished guest artists as Tadeo Coelho, Celena Shafer and
Kathryn Lucktenberg.
Now she is a third year DMA candidate in Piano Accompanying and Chamber Music at the Eastman School of Music in
Rochester NY, working with renowned professor, Dr. Jean Barr.