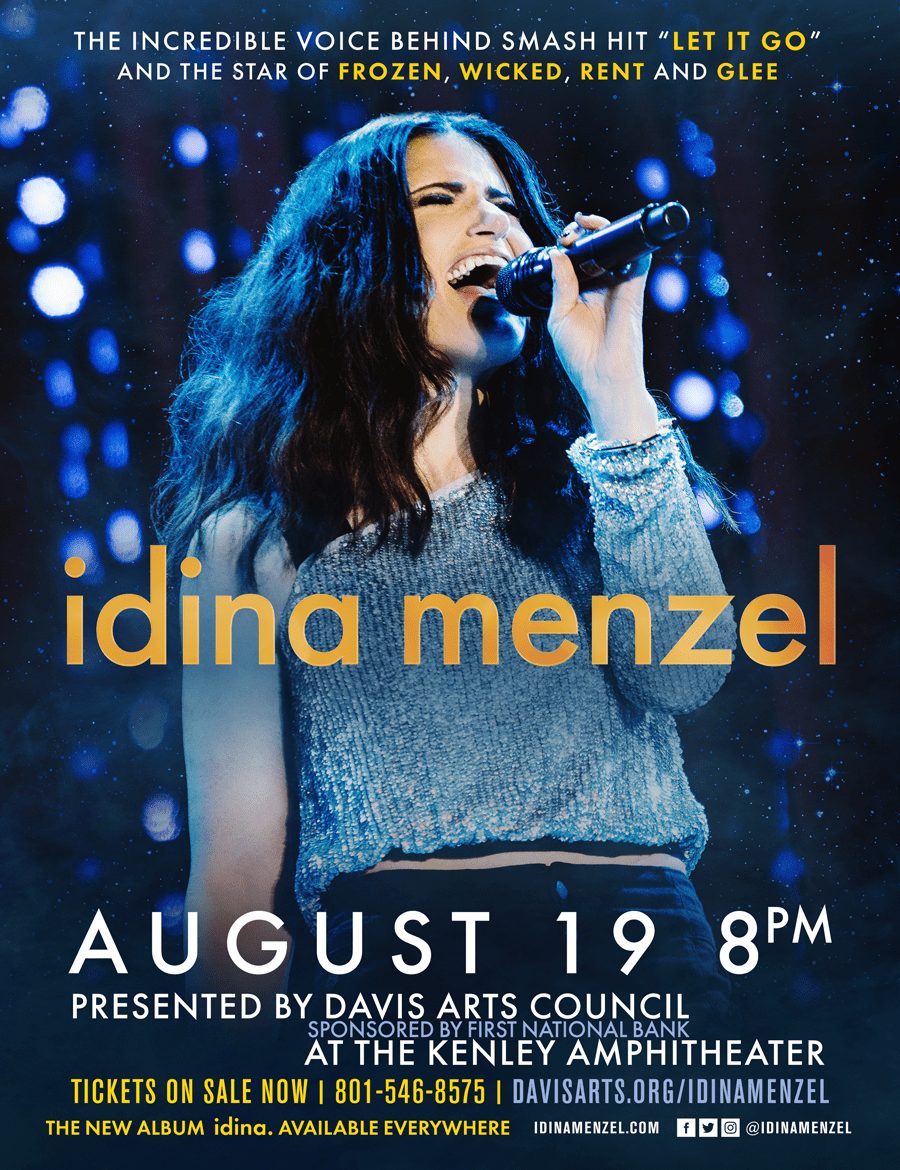 Davis Arts Council will proudly welcome TONY Award-winning film, television, Broadway, and recording artist Idina Menzel to The Kenley in Layton as part of her 2017 World Tour. This Utah stop on Ms. Menzel's 2017 World Tour is generously sponsored by Davis Arts Council's partner, First National Bank.
**This concert is a "Premiere Engagement" for the 2017 season and is not included in season subscriptions.
Saturday, August 19, 2017 | 8 PM
Orchestra: $130
Reserved: $100
General Admission: $70

The Davis Arts Council can only guarantee tickets purchased directly through our box office. We cannot confirm any tickets purchased by any other method. Visit our FAQ page for information regarding The Kenley Amphitheater and our Summer Nights with the Stars season.
SPONSORED BY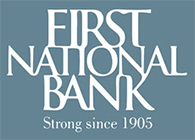 Tony Award-winning icon Idina Menzel has a diverse career that traverses stage, film, television and music. Menzel's voice can be heard as Elsa in Disney's global box office smash "FROZEN," in which she sings the film's Oscar-winning song "Let It Go," and in the follow-up short, "FROZEN FEVER." After Menzel's performance of the multi-platinum song at the 86th annual Academy Awards, she made history as the first person with both a Billboard Top 10 hit and a Tony Award for acting. Menzel capped 2016 with the release of her fifth solo studio album, 'idina.,' and filmed Lifetime's remake of "Beaches," set to air January of 2017, in which she portrays the role of 'CC,' made famous by Bette Midler.
Garnering huge critical acclaim, Menzel reached superstardom on Broadway with her Tony Award-winning performance as 'Elphaba,' the misunderstood green girl in the blockbuster "WICKED," and in her Tony-nominated role as 'Maureen' in the Pulitzer Prize winning "RENT." Menzel's most recent Broadway role as 'Elizabeth' in the original production "IF/THEN" earned her a third Tony nomination. Other notable projects include "Glee" and Disney's "Enchanted." In addition to cast albums, Menzel's prolific recording career includes the solo albums 'I Stand,' 'Here' and 'Still I Can't Be Still.' Her first-ever Christmas album 'Holiday Wishes,' released October 2014 on Warner Bros. Records, debuted at #1 on Billboard's Holiday Albums chart, broke into the top 10 on Billboard Top 200 Album Chart and received rave reviews. Menzel received the Breakthrough Artist of the Year Award at Billboard's annual Women in Music event the same year.
Philanthropy is also important to Menzel, who co-founded the A BroaderWay Foundation in 2010. This organization is dedicated to offering girls from underserved communities an outlet for self-expression and creativity through arts-centered programs. The emphasis is on building self-esteem, developing leadership qualities and striving for personal and social achievement. In 2014, Menzel was recognized as one of Variety Magazine's Power of Women honorees for her work with the organization. For more information on A BroaderWay, visit http://www.abroaderway.org/.