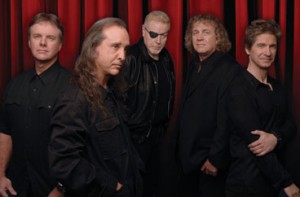 "From the beginning, we considered ourselves and our music different and we hope we will always remain so." Little did this legendary rock group realize that back in the early 70's what seemed to be "different", was actually ahead of its time.
Kansas achieved success by playing only their original music. This "garage band" from Topeka was discovered by Wally Gold who worked for Don Kirshner and released their first album in 1974.
The band has produced eight gold albums, three sextuple platinum albums (Leftoverture, Point of Know Return, Best of), one platinum live album (Two for the Show) and a million-selling gold single, "Dust in the Wind". KANSAS appeared on the Billboard charts for over 200 weeks throughout the 70's and 80's and played to sold-out arenas and stadiums throughout North America, Europe, and Japan. In fact, "Carry On Wayward Son" was the #2 most played track on classic rock radio in 1995 and went to #1 in 1997. In 1998, KANSAS released an orchestral CD, Always Never the Same with the London Symphony Orchestra at Abbey Road Studios. They followed with an orchestral tour accompanied by top-caliber symphony orchestras.
In 2000, KANSAS went back into the studio with original band member and songwriter, Kerry Livgren, to produce Somewhere to Elsewhere, the first CD featuring all six of the original players in 20 years. The ten new songs were written by Kerry Livgren and recorded in his studio in Topeka, Kansas. Players included: Phil Ehart, Billy Greer, Dave Hope, Kerry Livgren, Robby Steinhardt, Steve Walsh, and Richard Williams. 2001 brought the much anticipated, digitally re-mastered release of Masque and Leftoverture, including never-released demos and live cuts. The digital re-master of Point of Know Return was released in 2002. It also includes two new live cuts.
Original member and drumming master, Phil Ehart, said, "We always have our eyes on the horizon. We are always looking for new ways to capture the essence of our music. Now, KANSAS is releasing a state-of-the-art DVD using the latest technology in film, audio, and visual design." Device-Voice-Drum was the driving force behind the 2002-03 tour. Device-Voice-Drum was released in 2002 and is available as a Widescreen DVD and also as an enhanced audio two-CD set. Sony Music released a boxed set in 2004 titled Sail On which features unique KANSAS cuts as well as vintage video footage on the included DVD.
Event Sponsors

Event Dates
Friday, August 1, 2008 | 8:00 PM
Event Gallery
Related Websites