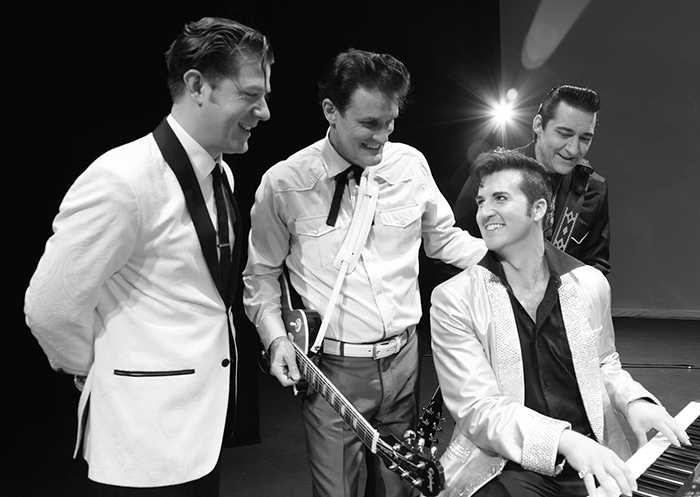 Saturday, Sept. 8 , 2018
8 PM | Gates open at 7 PM
Orchestra: $39
Reserved: $29
General Admission: $19
Tickets go on sale 5/1 at 10 AM
On December 4th, 1956 music history was made. This date found Carl Perkins, Johnny Cash, Jerry Lee Lewis and Elvis Presley together at Sun Record's studio in Memphis, TN. A jam session ensued which seems to have happened by pure chance. Perkins, who by this time had already met success with "Blue Suede Shoes", had come into the studio that day, accompanied by his brothers Clayton and Jay and by drummer W.S. Holland, to cut some new material, including a revamped version of an old blues song, "Matchbox". Sam Phillips, the owner of Sun Records, who wished to try to fatten this sparse rockabilly instrumentation, had brought in his latest acquisition, singer and piano man extraordinaire Jerry Lee Lewis, still unknown outside Memphis, to play piano on the Perkins session.
Sometime in the early afternoon, Elvis Presley, a former Sun artist himself but now at RCA, dropped in to pay a casual visit . He was, at the time, the biggest name in show business, having hit the top of the singles charts five times, and topping the album charts twice in the preceding 12-month period. Less than four months earlier, he had appeared on The Ed Sullivan Show, pulling an unheard of 83% of the television audience, which was estimated at 55 million, the largest in history up to that time.
After chatting with Philips in the control room, Presley listened to the playback of Perkins' session, which he pronounced to be good. Then he went out into the studio and some time later the jam session began. At some point during the session, Sun artist Johnny Cash, who had recently enjoyed a few hits on the country charts, popped in. Cowboy Jack Clement was engineering that day and remembers saying to himself "I think I'd be remiss not to record this" and so he did and the night became rock and roll music history. Many famous artists such as Bob Dylan recall listening to these recordings and being tremendously inspired by.
This is our Hill Air Force Base Appreciation night.