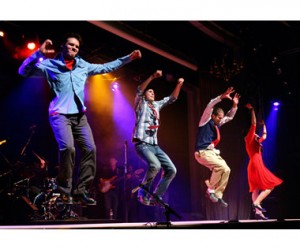 Rhythmic Circus has quickly risen from an underground percussive-dance phenomenon to an innovative live performance company known for transforming their tap shoes into instruments of rhythm. The Minneapolis Star Tribune put it well when they called the dance troupe "Flat out amazing!"
The company's repute goes well beyond the sum of the dancers' talents; themed pieces include costume changes and musical segues highlighting the funky styling of a seven-piece band. The combined and highly integrated talents of the dancers and musicians alike have built a reputation for leaving audiences on their feet and dancing in the aisles!
Although the company's official inception was in 2007, the troupe's core members have been collectively choreographing and performing together since 2000. No stranger to the spotlight, they have recently opened for Savion Glover's Bare Soundz, collaborated with Vocal Essence in Witness: A Tribute to Duke Ellington at the Ordway Performing Arts Center, and appeared in the Crash Bang Boom! Festival at the Minnesota Orchestra Hall.
Their current production, Feet Don't Fail Me Now!, premiered in August of 2008 at the Ritz Theatre in Minneapolis, Minnesota, when the group's dancers and founders Nick Bowman, Ricci Milan, Kaleena Miller and Eddie Strachan joined forces with Twin Cities' heavyweight musicians Alex Rossi, Cornell Blanchard, Patrick Nelson, Dan Ristrom, Jason Marks, Elliot Blaufuss and Aaron "Heatbox" Heaton to integrate an inventive style of rapid-fire tap with a wide variety of musical genres. This captivating blend resulted in a novel music and dance experience that appeals to audiences of all ages.
FDFMN! from Rhythmic Circus on Vimeo.
Event Dates
Saturday, July 31, 2010 | 8:00pm
Ticket Prices
Reserved | $20.00
Adult General Admission | $14.00
Senior/Child General Admission | $12.00
Related Websites