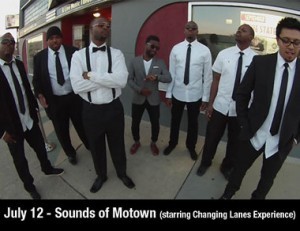 The Music of Motown Featuring Changing Lanes Experience Changing Lanes is made up of some of Utah's finest musicians. Most of these guys have been playing together for 10 years or more and the chemistry is undeniable and the musical intellect is unchallenged. The performance rating of Changing Lanes Experience is second to none!
This local band brings the rockin sounds of Motor City to the Kenley stage!
With an $800 loan from his family, Berry Gordy Jr. established Motown Records in January 1959. Within a few years, this Detroit-based outfit was selling more singles and releasing more hits than any other record company.
In its classic era, the seminal music scene of the 1960s, Motown's artists were among the most popular, establishing a standard of excellence and sophistication that has never been surpassed. Calling itself "The Sound of Young America," the instantly recognizable and often-imitated Motown Sound blended distinctively passionate singers, the call and response vocal arrangements of the African-American church tradition, pop music sensibilities, jazz virtuosity and irresistible rhythms, overlaying them with timeless songwriting.
With a roster of young artists drawn largely from Detroit's poor and working class neighborhoods, the Miracles, the Marvelettes (who had Motown's first Pop No. 1, "Please Mr. Postman"), Martha and the Vandellas, Marvin Gaye and Mary Wells began providing Motown with consistent hits, many written and produced by Robinson, while other acts, the Temptations and the Supremes among them, learned their craft. In 1961, Motown signed a blind 11-year-old singer and multi-instrumentalist; two years later Stevie Wonder had his first hit, "Fingertips Pt. 2," and his album The 12 Year Old Genius became Motown's first No. 1 LP.
Robinson soon grabbed the reins for the Temptations and produced a string of hits for them including "My Girl." His brilliance was eventually matched by the team of Brian Holland, Lamont Dozier and Eddie Holland. That trio guided the Supremes and Four Tops to stardom. Beginning in 1964, the Supremes had 10 No. 1 Pop hits and five more in the Top 10, becoming Motown's flagship act. Additional songwriters and producers, including Johnny Bristol, Harvey Fuqua, Ivy Jo Hunter, Sylvia Moy, and Henry Cosby, and arrangers from Paul Riser to Willie Shorter, helped grow the Motown Sound.
With Motown having celebrated its 50th Anniversary, the public's desire for the Classic Motown material has not diminished. The label's catalog is unparalleled. The legendary Motown vault is continually explored to unearth previously unheard material. Both are warmly welcomed by a legion of fans and collectors around the world.
Event Sponsors

Event Dates
Saturday, July 12, 2014 | 8:00pm
Ticket Prices
Reserved | $15.00
General Admission | $10.00
Event Gallery