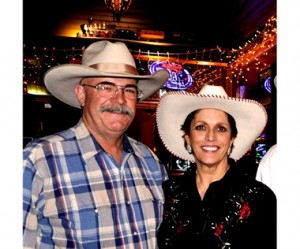 From West of the freeway in Northern Utah comes Western Music Association performers, STAMPEDE!, a multiple award winning Western music duo that brings good music, harmony, humor and just down-right good fun to the stage. From state fairs to county fairs; large gatherings to small neighborhood BBQs, STAMPEDE! delivers the absolute best every time and will leave you laughing or crying but you'll go away knowing you have been entertained by one of the best groups in Western Music today.
The group is made up of the husband/wife team of Steve Taylor, "The Safest Driver in the West" (and pretty darn good on that upright bass) and Terri Taylor, dubbed "The Epiglottis Goddess" and labeled "a Triple Threat" by Ranger Doug of Riders In The Sky for her singing, yodeling and songwriting abilities.
STAMPEDE! has performed throughout the West since 2000 and has been going strong averaging 250 performances a year. They have opened for major headliners including Riders In The Sky, Roy Rogers Jr., The Sons of the Pioneers, Dan Seals, Rex Allen Jr., Wylie and the Wild West, Baxter Black, Red Steagall, Don Edwards and Waddie Mitchell, Bill Barwick and Belinda Gail.
Event Sponsors

Event Dates
Sunday, June 5, 2011 | 7:00pm
Event Dates
Free Sunday Night Concert Series $0.00