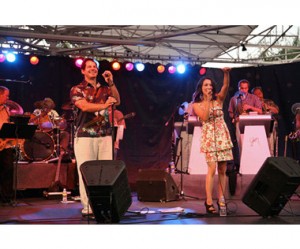 Once you've heard the Joe Muscolino Band, it's easy to understand why this acclaimed group of Utah musicians is returning by popular demand to the Kenley Amphitheater. No musical genre is out of their range as they comfortably pay tribute to Michael Jackson, sing an ABBA hit, put their spin on a Beatles chart-topper, or craft the mood of a sultry jazz standard.
Over the years, The Joe Muscolino Band has been creating musical magic as one of the busiest and most popular performing groups in the Intermountain West. The band's strong commitment to excellence and personalization has been its key to success. After enjoying their performance at the Governor's Ball, former Gov. Jon Huntsman enthused, "This year's Governor's Ball was one of our most successful and memorable – due in no small part to the talent and versatility of the Joe Muscolino Band."
From professional productions, to corporate events, to weddings, and cocktail parties, The Joe Muscolino Band brings to the 2010 Summer Nights with the Stars musical selections to please the taste of any audience member.
The Joe Muscolino Band is for those who love the true sound of the American songbook. It is an attitude and a frame of mind that will engulf you. Listen to the powerful horns and rhythm of the nine-piece band as Dan & Jen sing the hits you love. Including Muscolino on horns, the group also features vocalists Jennifer and Danny Terasevich; additional horns by Reed Le Cheminant Louis Campbell, David Asman, D.B. Long, and Keith Parietti; guitarist Rich Dixon; pianist Michael Huff; bassist Mark Robinette; and drummer David Murphy.
Event Sponsors
Event Dates
Monday, August 9, 2010 | 8:00pm
Ticket Prices
Reserved | $10.00
Adult General Admission | $8.00
Senior/Child General Admission | $7.00
Related Websites