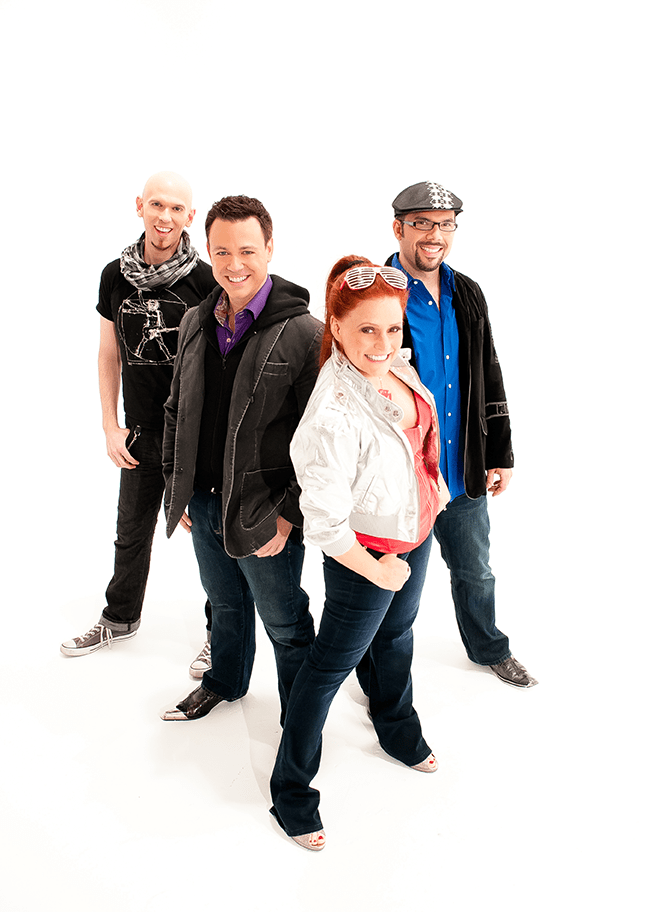 Wednesday, June 20 , 2018
8 PM | Gates open at 7 PM
Orchestra: $25
Reserved: $15
General Admission: $10
Tickets go on sale 5/1 at 10 AM
This concert in sponsored by
Twisted Broadway starring Blue Jupiter 
There was a misprint in our post card that was mailed out. This is an A Capella group performing Broadway classics.
Broadway Records recording artists, Blue Jupiter, is the cutting edge of a cappella. Soaring pop and Broadway leads. Tight harmonies. Unbelievable beatboxing. And most importantly, nothing else. No instruments. No DJ. No tracks. No calories. No carbs. This NY-based quartet is just 4 mouths and 4 mics. Real voices and non-stop energy. In a world where seemingly everything is fake, Blue Jupiter is literally, out of this world.
Blue Jupiter's biggest exposure came from the Lifetime TV show "Pitch Slapped'"seen by millions in the US, UK, Israel, The Philippines, Indonesia, Mexico, Venezuela, Brazil and Portugal and throughout Latin America. Blue Jupiter's female lead singer, and star of Pitch Slapped, Diana Preisler, alongside members of Blue Jupiter became know to their loyal audience as they all coached and performed for young a cappella singers weekly, on TV screens across the globe. But Blue Jupiter's fan base was earned way before their reality TV stardom, from over 15 years of non-stop touring.
Blue Jupiter makes "twisted" a cappella versions of Broadway and pop songs. That creative, a cappella twist has landed Blue Jupiter on Oprah, LifetimeTV, and as the voice of the Oreo Cookie commercials produced by Randy Jackson (American Idol, Mariah Carey). They've headlined Resorts Casino in Atlantic City, Sands Casino in Macau China, Villa Roma Catskills Resort and on Royal Caribbean and Celebrity cruise ships. They've shared the stage with acts from Pentatonix to Livingston Taylor; Owl City; to Third Eye Blind; Blake Lewis of American Idol to the thousands of high school and college singers that they both coach and invite to join them onstage. They've sung for tens of thousands of kids, from elementary age to college, and for corporate giants like Food Network, Microsoft, Honda, NOKIA, Disney, Nickelodeon, Stella McCartney, and the Weather Channel. With performances in 48 US states and hundreds of shows in China and Japan, Canada and across the Caribbean, Blue Jupiter can truly be called road warriors.
Blue Jupiter was formed in 2001. What began as pizza money for hungry students at Berklee College of Music in Boston, quickly became a full-time professional career. Gigs started pouring in from high schools, colleges and Universities across the US. Originally an all-male ensemble, Blue Jupiter's early albums: "Ear Candy," "Scattered Flurries" (a Christmas album) and "Live from NYC." all received rave reviews. Those recordings caught the ear of Diana Preisler, a Broadway performer in New York City. This match was meant to be. She polished their look and encouraged the group to enter National competitions. Barely a month later, Blue Jupiter had won the Oreo Cookie Jingle Competition, worked with famed record producer Randy Jackson, been seen on Oprah and started experiencing a very full calendar of events. The surprise: requests kept coming in for a group that could also bring a powerhouse female lead. Diana stepped up and Blue Jupiter's Twisted Broadway sound was born.