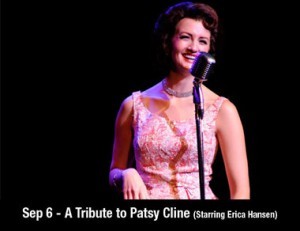 Patsy Cline is heralded as one of the most influential, successful, and acclaimed female vocalists of the 20th century. With hits, "Crazy," "Walkin' After Midnight," and "I Fall To Pieces," Patsy Cline cemented herself as a rich contralto voice and artist that will never be forgotten.
Salt Lake City actress and vocalist, Erica Hansen, and her band celebrate the songs and stories of Patsy Cline for one night only.
ABOUT PATSY CLINE:
PATSY CLINE, (Virginia Patterson Hensley), was born in the Shenandoah Valley in Winchester, Virginia, on September 8, 1932. The family home was in nearby Gore. Legend has it that she was entertaining her neighbors as early as age 3! Her natural talent and spirit took her to the top of the country charts in 1962, and her style and popularity has never waned.
Patsy's big break came when she won an Arthur Godfrey Talent program in 1957 with the hit "Walkin' After Midnight." From there she pursued a recording career appearing at the mecca of country music – the Grand Ole Opry in 1958, and received national awards in 1961 and 1962.
Country music lost a magical entertainer when her career was ended far too early in an airplane crash in Tennessee, in 1963. In 1973 Patsy was elected posthumously to the Country Music Hall of Fame, and her reputation is on record as one of the major female vocalists of all time.
ABOUT ERICA HANSEN:
A chance encounter in high school with a Patsy Cline Greatest Hits cassette tape made Erica Hansen a lifelong fan of Cline's music. Erica has played the country legend in the musical staging of "Always… Patsy Cline," seven times, to critical and popular acclaim; breaking box office records, garnering standing ovations and, most rewarding for Erica, creating a renewed interest in Patsy Cline and her music. Other stage acting credits include Marian in "The Music Man," Eliza in "My Fair Lady," and Sarah Brown in "Guys and Dolls," among others. Erica's voice can be heard in radio commercials up and down the dial. During the day, she is in marketing at Hogle Zoo and is mom to a constantly-singing six year old daughter.
Event Sponsors

Event Dates
Saturday, September 6, 2014 | 8:00pm
Ticket Prices
Reserved | $15.00
General Admission | $10.00
Event Gallery