In 1995, Davis Arts Council partnered with Layton City, corporate sponsors, and private donors to build the Edward A. Kenley Centennial Amphitheater. Since that time Davis Arts Council has proudly packed it each summer with some of the greatest talents of our time: Chicago, The Doobie Brothers, Foreigner, Styx, Olivia Newton-John, The Beach Boys, and REO Speedwagon to name a few.  To view the history of concerts at the Kenley, visit our Season History Page.
The Kenley is right in the heart of Layton Park and can hold 1800 people at capacity. We like to think of the Kenley as one of the many gems of Layton. If you're interested in renting the amphitheater, visit the Layton City Parks and Recreation website or call (801) 336-3900.
TICKETING
Davis Arts Council is the only authorized and official ticket seller for Summer Nights with the Stars and DAC the Halls events. 
Tickets obtained from unauthorized sources may be counterfeit or otherwise invalid. Any purchases from unauthorized sources are at your own risk. Tickets may not be copied or reproduced in any form. Management reserves the right to revoke any privilege of admission to any person who possesses a counterfeit or invalid ticket.
Tickets may not be resold within 500 feet of the venue.
PARKING
Parking at The Kenley Amphitheater is free! Parking spots are available on the north side of the venue, along Wasatch Drive, or across the street at Layton High School.
LINE POLICIES
At least one member of every party must be in sight of items in line at all times. Any unattended items will be removed and taken to lost and found.
GATES
Gates open approximately one hour prior to the start of the show for Summer Nights with the Stars and 30 minutes prior to the start of the show for Free Sunday Night Concerts and Free Friday Films. Patron chairs and/or belongings may NOT be placed in the amphitheater before the gates open.
CHAIRS
Only standard-size camping chairs are allowed at Summer Nights with the Stars events. The height of the back of your chair must be less than 37″ tall.
No lounge/reclining chairs
No sofa/couch chairs
No hammock-style chairs
No side tables or footstools
No blankets
Chairs are available for rent for $5 and are first-come, first-served. Cash and Venmo accepted.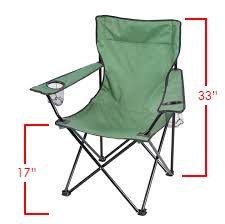 (Picture illustrates allowable size and style of chair.)
Management reserves the right to remove or relocate any and all non-compliant chairs.
COOLERS, STROLLER & WAGONS
Coolers less than 15 inches by any dimension are allowed but must be stored under chairs.
At Summer Nights with the Stars events, strollers and wagons must be collapsed and stored, or parked at Security at the south gate of The Kenley Amphitheater. These items are large and create space and visibility issues.
For Sunday Night Concert Series and Free Friday Film Series events, strollers and wagons are allowed to be utilized during the event as space and visibility permits. Davis Arts Council staff reserves the right to relocate these items when needed. 
CONCESSIONS & OUTSIDE FOOD
Our vendor, Nacho Mamas, offers a variety of options, including hamburgers, hot dogs, Philly cheesesteaks, nachos, water, soda, popcorn, candy, ice cream, and chips. Credit cards are accepted.
You are welcome to bring in your own food and non-alcoholic drinks. 
WEATHER
All Summer Nights With the Stars shows are rain or shine. We ask that you be prepared for inclement weather should it occur. We do allow umbrellas into our venue but please be respectful of those around you when using your umbrella.
Temperatures upwards of 100°F are common. Please visit our Beat the Heat webpage to prepare for these extreme temperatures and familiarize yourself with the symptoms of heat exhaustion and heat stroke.  
PHOTOS & VIDEO
Audio/video recording or live streaming of any kind is strictly prohibited in and around The Kenley Amphitheater. Non-flash photos with your small hand-held device from your seat are only permitted at the artist's discretion. No cameras with interchangeable lenses.
ANIMALS
Only service dogs required for a disability are allowed.
No pets. Management reserves the right to refuse or revoke admission to any person who brings non-service, emotional support, or companion animal into the venue.
ACCESSIBILITY & ACCOMMODATIONS
All events are wheelchair accessible. Please state your requests at the time you purchase tickets. ASL interpreters are available with prior notice of two weeks.
Wheelchair seating is intended for patrons who use a wheelchair. The venue reserves the right to relocate and charge the difference in price in the event that such tickets are being used by a patron who is not using a wheelchair, mobility scooter, or other applicable mobility devices.
For more information on accessibility and accommodations, please visit our Accessibility page.
SMOKING & ALCOHOL
State law prohibits smoking, vaping, and alcohol in and surrounding The Kenley Amphitheater.
LOST & FOUND
The house manager will hold the items found in the amphitheater until the end of the performance. Thereafter, please visit or contact the DAC office at 801-546-8575. Any items not claimed within 30 days following the season's final show will be donated to charity.
SAFETY
Federal law requires that you follow all posted notices, as well as instructions from security, staff, and ushers.
ADDITIONAL QUESTIONS: If you have additional questions, call our office at 801-546-8575 for more information.