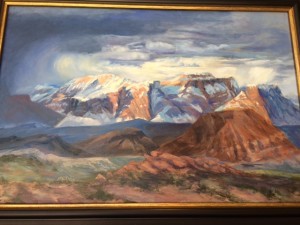 Geri has received many awards and commendations, and also done many commissioned pieces of art work. She has taken 1st place at the Utah State Fair and Weber County Fair several times. She received Best of Show & People's Choice Award at the Utah State Fair in 2005. She had her Christmas cards for preemie neonatal unit at McKay Dee Hospital. She has displayed at Inspirational Artist Art Show Thanksgiving Point, Eccles Art Center one man show Art Walk at Authenticity Gallery St. George twice, Moab Plein Air Essence of the American West, Thymes and Seasons, Madd Moose, Midway Art Association Wasatch Plein Air Paradise, Rio Grande, Zion's Bank, Ogden Art Wall, and Syracuse Community Center. Her work is currently on display at Sierra RV and a newly completed 4000 sq. ft. studio where she does workshops and art shows.
She paints many different subjects from landscapes, wild life, still life and portraits. She enjoys creating in pencil, watercolor, oil and sculpture along with crochet, sewing, quilting, gardening and stained glass. Her work is literally covering the walls and halls of Sierra RV. Working Plein Aire or Ali Primea are her favorite ways to paint especially with friends.
Geri Jensen is married to Carl Jensen and they now have five children, four of which are married and have given them fourteen grandchildren. Her family is her greatest joy and she loves to paint pictures of the children and grandchildren.