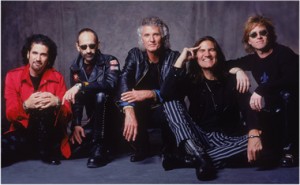 "Grand Funk were the people's choice, and the people were right!" David Fricke, Rolling Stone Magazine, April 3, 2003.
Grand Funk Railroad, the top selling American rock group of the 70s is coming to Layton to "HELP YOU PARTY IT DOWN" for one night only, August 14, 2008!
Known as "The American Band," the high-energy five-piece group includes original founding members Don Brewer (vocals and drums, writer and singer of the multi-million selling hit, We're an American Band) and bassist Mel Schacher, "The God of Thunder." Joining Don and Mel are true all stars: singer Max Carl (who Don calls "the best blue-eyed soul singer on the planet") is a rock veteran from 38 Special; lead guitarist Bruce Kulick is best known for his 12 years with KISS and also has credits with Michael Bolton, Meatloaf, and Billy Squier; keyboardist Tim Cahion has a master's degree in music from the University of Miami, affectionately called "Dr. Tim," his credit include stints with Bob Seger's Silver Bullet Band and English soul man, Robert Palmer.
Grand Funk laid the groundwork for such bands as Foreigner, Journey, Van Halen, and Bon Jovi with its signature hard driving sound, soulful vocals, muscular instrumentation and foreceful pop melodies. The fact that Grand Funk's legacy still reigns over the classic rock landscape for forty years after its 1969 birth in Flint, Michigan, is a testament to the group's influence and staying power. Mega-hits, We're an American Band, I'm Your Captain/Closer to Home, Locomotion, and Some Kind of Wonderful still receive continuous airplay on classic rock radio.
Grand Funk has toured the world, selling out in the U.S., Canada, Europe, Japan, and South America. A 1971 performance at New York's Shea Stadium sold out faster than The Beatles. The group's widespread appeal is also evident in its prestigious recording achievements. Over their career, Grand Funk has had 19 charted singles, 8 Top 40 hits and two number one singles (We're an American Band and Locomotion). The group has 13 Gold and 10 Platinum record sales in excess of 25 million copies sold worldwide.
The multi-talented band carries on the tradition of Grand Funk hits and creates a new chapter in the legacy of Grand Funk Railroad. Seasoned Grand Funk lovers and contemporary rock fans discovering the group for the first time, will be able to see and hear firsthand, that Grand Funk Railroad's train is right on track.
Event Sponsors

Event Dates
Friday, August 14, 2009 | 8:00 pm
Event Gallery
Related Websites