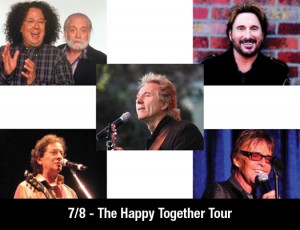 Five legendary music sensations . . . one night under the stars: The Turtles Featuring Flow & Eddie, Chuck Negron (Three Dog Night), Gary Puckett & The Union Gap, Mark Lindsay (Paul Revere & The Raiders), and Gary Lewis & The Playboys.
The Turtles:
Very few rock performers have remained as vital through the 60's, 70's, 80's, and 90's as The Turtles Featuring Flo & Eddie. The band scored their biggest and best-known hit in 1967 with "Happy Together." With a sparkling fusion of folk-rock and pop, dual frontmen Howard Kaylan and Mark Volman are known for their amazing harmonies and memorable performances.
Chuck Negron:
After connecting with fellow singers Cory Wells and Danny Hutton in Los Angeles, Churck Negron formed Three Dog Night in 1968. Eighteen consecutive Top 20 singles followed, including #1s "Mama Told Me Not to Come", "Joy to the World", and "Black and White." After a long hiatus and with an extra octave added to his vocal range, Negron re-booted his solo career in 1994.
Gary Puckett:
Gary Puckett & the Union Gap was one of the most successful musical groups of the 60's. Gary's unmistakable signature voice garnered six consecutive gold records and Top Ten hits such as "Young Girl," "Woman Woman," Lady Willpower," "Over You," "This Girl is a Woman Now," and "Home." Gary continues to tour nationally and internationally as he visits fans old and new around the world.
Mark Lindsay:
Mark Lindsay began his career as the rockabilly singer in Freddy Chapman's Idaho Playboys. From there, he and bandmates Dick and "Mooney" White, along with Paul Revere, and Dick and Jerry Labrum, formed Paul Revere and the Raiders. Seventeen Top 20 hits later, Mark now tours as a solo artrist, performing the Paul Revere and the Raiders catalog as well new music, including his solo hit "Arizona."
Gary Lewis
Gary Lewis and The Playboys were discovered in the summer of 1964. Before long, they took their first single, "This Diamond Ring," straight to #1. After their second hit "Count Me In" went to #2, it was clear that Gary and the band would be a continued success. More Top 10 songs followed, including "Save Your Heart For Me," "Everybody Loves A Clown," "She's Just My Style," and "Sure Gonna Miss Her." In 1965 Gary was named Cash Box Magazine's "Male Vocalist of the Year" – the other nominees were Elvis Presley and Frank Sinatra.
Event Sponsors

Event Dates
Monday, July 8, 2013 | 8:00pm
Ticket Prices
Orchestra | $63.00
Reserved | $53.00
General Admission | $36.00
Event Gallery