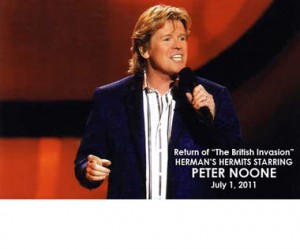 At the age of 15, Peter Noone achieved international fame as "Herman," the lead singer of the legendary 60's pop band, Herman's Hermits. Their classic hits included "I'm Into Something Good," "Mrs. Brown You've Got a Lovely Daughter," and "There's a Kind of Hush." Ultimately Herman's Hermits sold over 60 million recordings. In all, fourteen singles and seven albums went gold and they were twice named Cashbox's "Entertainer of the Year."
Throughout the years, Noone has written, produced, and performed around the world, including turns on Broadway and popular television shows. He was the host of VH-1's My Generation. He also enjoyed a recurring role on daytime's long-running As the World Turns.
We've not seen him on our stage since 2004 and we're bringing him back by popular demand. Noone has a legion of faithful fans (known as "Noonatics") whose loyalty is unparalleled. His charm as a performer is second to none and his crowd-pleasing concerts delight those who lived through the British Invasion and anyone who appreciates a polished and charming entertainer.
His extraordinary talent, disarming wit, and compelling stage presence will make this a night to remember at the Kenley. There is no doubt that Peter Noone will continue to delight fans of all ages for a long, long time to come.
Event Sponsors

Event Dates
Friday, July 1, 2011 | 8:00pm
Ticket Prices
Orchestra | $36.00
Reserved | $29.00
General Admission | $19.00