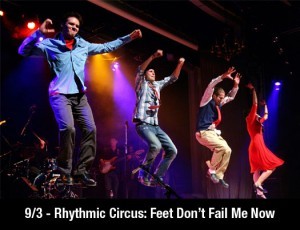 There's tap dancing… and then there's Rhythmic Circus! The percussive-dance phenomenon that electrifies its audience returns to the Kenley with "Feet Don't Fail Me Now."
Known for their hard-hitting, rapid-fire tap, sidesplitting humor and finger-snapping tunes, these tap superstars are accompanied by an infectious seven-piece band, vocalists, and a unique, one-man, a cappella, beat-box sensation.
Rhythmic Circus makes music with everything from sand to folding chairs and even utilize the technology of electric drum triggers to change the sound of their taps during a dance vs. beatbox battle.
You have to see it to believe it!
Event Dates
Tuesday, September 3, 2013 | 8:00pm
Ticket Prices
Reserved | $20.00
General Admission | $14.00
Event Gallery