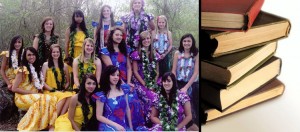 From the page of classic novels to the stage of musical theatre comes an evening of show tunes that will delight young and old alike. Talented community vocalists will perform selections from the musical classics: Peter Pan, Wizard of Oz, Jekyll and Hyde, Mary Poppins, The Secret Garden, Little Women, Les Mis, and The Scarlet Pimpernell.
Performers include Marianne Orton, Nick and Jamie Balaich, David Powell, Mark Noyce, Tricia Butterfield, Aubrey and Adam Harmon, Emily Teeples and Sarah Bentley.
Pre-show entertainment will showcase "A Touch of Polynesia Dancers," directed by Jacque Dillingham
As a young girl Jacque Dillingham lived in the beautiful town of Laie, on the Hawaiian Island of Oahu. In 1998 Jacque formed the performing group "A Touch of Polynesia" to share her love of the Polynesian culture with others. Over the past 11 years, she has taught dozens of girls the art of Polynesian and Hawaiian dancing. The group performs traditional dances from Tahiti, Hawaii, and New Zealand.
A Touch of Polynesia 2009 dancers are: Mariah Katoa, Nicole Katoa, Amanda Faulkner, Carly Harris, Jen Itri, Nicole Soifua, Breckelle Soifua, Haylie Brooks, Meagan Sorenson, Eliza Katoa, Maryn Dunn, Mekelle Crowton, Jenny Soifua, Suzanne Katoa, and Amanda Sorensen
Event Sponsors

Event Dates
Sunday, July 12, 2009 | 7:00 PM