with special guests "Il Divino" and "Celtic Young Women"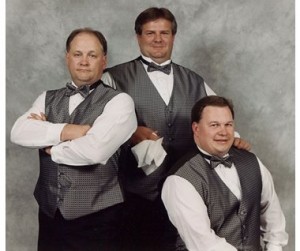 What happens when larger than life Super Tenors are joined by the incomparable "Il Divino" and the ethereal "Celtic Young Women?" An evening of side-splitting, show- stopping and heart-wrenching music and comedy—sure to have audiences of all ages laughing out loud (lol), swooning and sighing and even shedding a few tears!
Crowd favorites, "The Other 3 Tenors" (Terry Behunin, Brent Allen & Dave Allen) are back again with old favorites and new stuff. "Il Divino" will compete with the high notes as the golden voices of Layton's own Matt Shaw, David Powell, Mark Noyce and Luke Flinders melt the hearts of women over 12. Making their first appearance together are the "Celtic Young Women" (CYW) composed of Sopranos Megan Flinders, KayCee Hill, Megan Cooley, Becca Goeckeritz (also on violin) and prima fiddler Heather Hendrix.
Event Sponsors

Event Dates
Sunday, August 15, 2010 | 7:00 PM