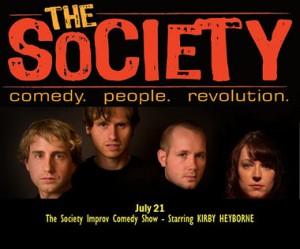 Kirby Heyborne – Kirby is well known among Utah and LDS audiences for his starring roles in the drama, Saints and Soldiers as well ta the family comedy, The R.M. He has appeared on TV as well as narrating over 150 books on tape. As a musician, he has released five albums and has toured extensively.
Lincoln Hoppe – Lincoln has appeared in several TV series and movies, including The Singles Ward, and The R.M. He also has voiced characters for animated films. He loves to improv, even when no one is watching!
Kelly Lohman – Kelly received her improv training with The Groundlings, an acclaimed improv troupe in Los Angeles. She is a member of Interact Theater Company in California where she has performed starring roles in musicals, comedies, and dramas. Kelly also loves to direct.
Corbin Allred – Corbin grew up in Sandy, Utah, and got his start at the age of 12 when he was spotted and signed by Los Angeles-based talent agency. He has appeared in movies with Natalie Portman, Susan Sarandon, and Dan Akroyd. He has also acted in several TV series including CSI, Monk, and Bones. He is also a talented singer/songwriter.
Davis Arts Council is thrilled to host The Society Show for a night filled with laughter and fun.
Event Sponsors

Event Dates
Saturday, July 21, 2012 | 8:00pm
Ticket Prices
Orchestra | $15.00
Reserved | $12.00
General Admission | $8.00
Event Gallery