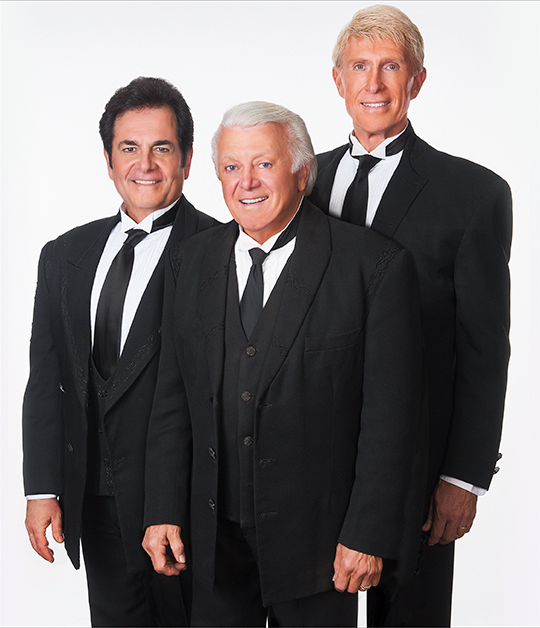 Wednesday, August 22 , 2018
8 PM | Gates open at 7 PM
Orchestra: $45
Reserved: $35
General Admission: $19
Tickets go on sale 5/1 at 10 AM
This concert is sponsored by
The Lettermen name first appeared in February 1958 on the marquee of the Desert Inn Hotel Resort Showroom in Las Vegas Nevada, where Butala, Mike Barnett and Talmadge Russell performed in the record-shattering revue, "Newcomers of 1928," which starred the most popular big band leader of the 1920's and 30s, Paul Whiteman, silent film comic Buster Keaton, singers Rudy Vallee and Harry Richmond, film star Fifi D'Orsay and the sneezing comedian Billy Gilbert. Butala played the part of Bing Crosby, who sang lead in the "Rhythm Boys" the vocal group that had hits and toured in the 1920's with Paul Whiteman's Orchestra.
The early vision of The Lettermen was of three very strong soloists who also had the ability and showmanship to perform and entertain an audience on their own but who also had the individual discipline needed to be group singers. The style they came up with was a sound between the big band vocal groups such as the Modernaires, Pied Pipers, Mills Brothers, Four Freshmen and the early Rhythm and Blues, soft rock groups such as the Ink Spots, Flamingos and the Platters.
The Lettermen have also appeared in most of the major sports arenas in the United States by singing their touching a cappella rendition of the "National Anthem." People Magazine honored their version of "The Star-Spangled Banner" by voting the group "one of the best 'anthem-singing' groups in sports."
The Lettermen have continually recorded, averaging at least one album a year. They formed their own Alpha Omega Records in 1979. Some of their newer CD albums, now numbering over 75, are: "The Lettermen – Favorites," "The Lettermen – Best Of Broadway," "The Lettermen – Live In The Philippines," their holiday CD "The Most Wonderful Time of the Year" and one of their latest releases "The Lettermen — New Direction."
During its over fifty-five year career, the trio has gone through a few personnel changes. Engemann left in 1967, replaced by Gary Pike, Jim Pike's younger brother. A few years later, due to vocal problems, Jim left the group and was replaced by his even younger brother, Donny Pike. The group stayed stable, with this combination all through the seventies and early eighties led by the constant lead singer Tony Butala. Since then, Donovan Tea, Bobby Poynton, Ernie Pontiere, Darren Dowler, Don Campeau, Chad Nichols and Mark Preston have each had stints as members of The Lettermen.