January 8, 2016
Up and Away with Sundance Trio
Inspired by Up and Away, a song written by Layton's own Alyssa Morris, The Sundance Trio make their Davis Arts Chamber Series debut.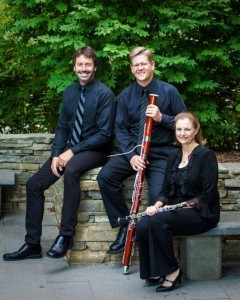 Date: January 8th
Time: 7:30PM
Place: Alpine Church off Hill Field Road in Layton (254 W. 2675 N.  Layton, UT.)
Download the Chamber Season Brochure: 2015-16_ChamberSeries_eBrochure
BIO:
The Davis Arts Council is happy to present "Up and Away with the Sundance Trio" on January 8th .  The title actually comes from the title of a new piece written by Alyssa Morris, a talented young Utah composer from Layton!  Alyssa just left Utah to pursue her doctoral degree in music at the Cincinnati College Conservatory of Music.  Her "Up and Away" is a piece The Sundance Trio premiered in NYC last year and have just recorded it for their 3rd CD. Besides this piece, among others, they will also perform the jazz-influenced Trio by Colorado composer, Bill Douglas, and the technically brilliant Trio by French composer Francis Poulenc.