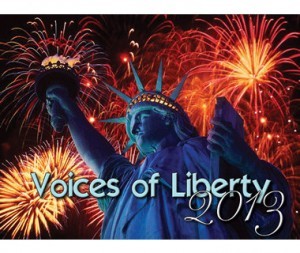 A patriotic extravaganza, Voices of Liberty is Layton City's Independence Day gift to the community. This annual presentation will kick-off Layton Liberty Days, which includes a fun walk/run, Independence Day parade, food, and craft fair culminating with a free concert and fireworks.
Choral groups performing at Voices of Liberty 2013 include the First National Bank Volunteer Choir and Men of Song, who will pay tribute to our veterans with "The Armed Forces Medley." The Celebration Chamber Orchestra will play patriotic favorites.
Great patriotic speeches past and present will be spotlighted and Layton City Mayor Steve Curtis will present the Hometown Hero Awards to over a dozen Layton residents who have served their community in outstanding ways.
Event Sponsors

Event Dates
Sunday, June 30, 2013 | 7:00pm