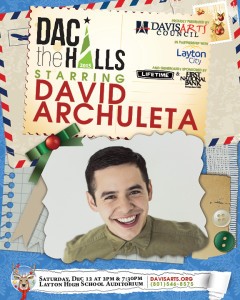 Dear Nine Nineteen Patrons:
We know you have been anxiously awaiting your instructions.  We have been working very hard on the process for redeeming the offer made.  You should receive those instructions in an email this week.  If you have not given the Davis Arts Council your valid email address, you should call the box office at (801) 546 8575 right away to do so.
It has taken us longer to figure out how to run this process because we wanted to:
Give you an opportunity to get your tickets before the public on-sale date of 11/17/2015
Give you an opportunity to upgrade or downgrade your seats into a different seating section if you so desire.
Allow you to purchase additional full-price tickets for your family if you desire (additional tickets will be at full price and the limit per transaction will be 10 tickets).
In order to facilitate these benefits for you, we have had to work and re-work the process to make it as fair as possible for all our wonderful patrons.  You should watch your email and regular mail by the end of this week.
REMEMBER: only tickets purchased through the Davis Arts Council box office system can be guaranteed.  Any tickets purchased through any other outlet, venue, or person cannot be validated through our system.  Please contact the person from which you purchased the tickets and have them call us to release their order to you.
Additionally, if you sold or gave your David Archuleta tickets to another patron, please call the DAC box office and give us the information so that we may contact them about this order from here on out. 
If you do not know who the original ticket-owners were you may call the box office with the bar code number on the tickets and we may be able to help you locate the original ticket-owner.