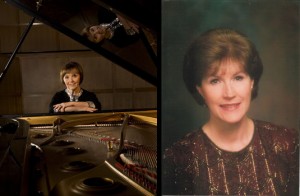 This all-piano concert will feature University of Utah piano department instructors Dr. Susan Duehlmeier and Professor Lenora Ford Brown and some of their students.
Susan has performed many times with the Utah Symphony as well as with the Boston Symphony, the Warsaw Philharmonic and the Czech Radio Orchestra, plus performances in international festivals in Oxford, Glasgow, Austria, Warsaw and Greece, and other performances in Prague, the Jerusalem Center, Madrid and China. She received a "Best of State" Award in 2004 and, with colleague Bonnie Gritton, was nominated for a Grammy Award in 2002. (Together, they have recorded five duo piano CDs, garnering first-place awards at two competitions in 2007.) Susan serves on the Board of Directors of the Gina Bachauer International Piano Competition and has been a Piano Area Chair at the U. of U., where she is designated a Presidential Teaching Scholar.
Lenora is a concert pianist, recording artist, arranger, composer and master teacher. She is an adjunct professor of music at the U. of U. She teaches both there and in her private studio. In 2008 she received the "Best of State" award and was inducted into ACME- international artists, composers, musicologists and educators. She is also the winner of the 2007-08 Utah Arts Council Performing Artist Tour.
Lenora has won first-place in several international piano competitions and has performed at Carnegie Hall. She has performed extensively throughout the Far East and the United States, including several performances with the Utah Symphony. She has been named one of the Top Ten New LDS Artists and is the creator of "Heaven Sent," a product line of piano arrangements and CDs in constant demand nationwide. She is listed on the international roster of Steinway Artists.
This evening's concert will also feature several of Susan and Lenora's most promising young piano students.
Event Sponsors

Event Dates
Sunday, July 19, 2009 | 7:00 PM