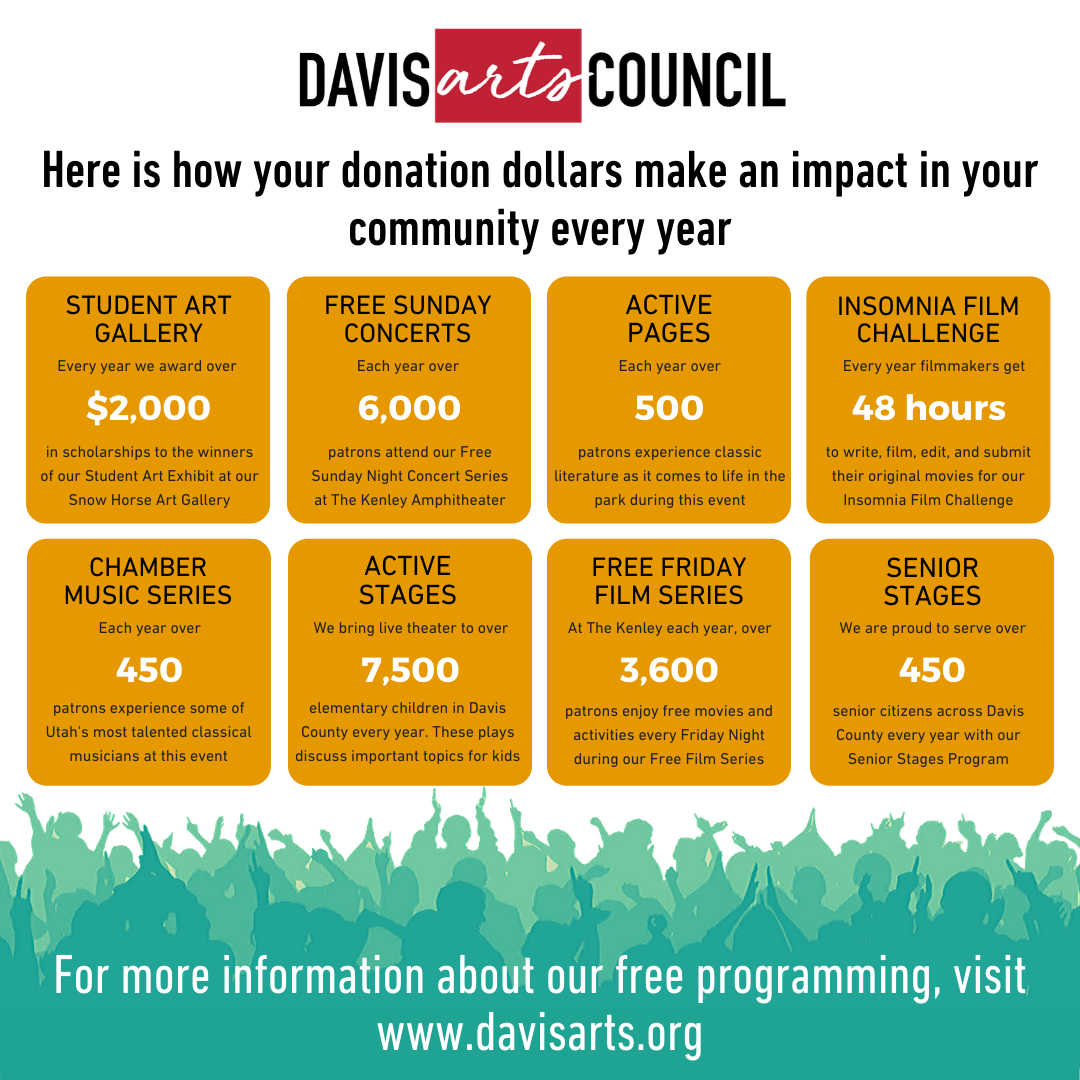 Our mission is to strengthen and enrich our community through the power of the arts. That not only means providing arts programming for our community to attend but also providing opportunities for local artists to showcase their talents. Check out all the other programs you can attend all year round.
Sunday Night Concert Series (FREE)
We have been featuring local musicians for decades as part of our Sunday Night Concert Series. Every Sunday, June through August, a new artist takes the stage to provide a one-hour performance for the community. We strive to provide a variety of genres so there is something new for those regulars we see each and every week. As long as it's family-friendly, it's welcome on our stage! (Insert apology to all those talented heavy metal artists of Davis County here.) 
Past seasons have featured singer-songwriters, folk, bluegrass, classical, jazz, rock, and country. We've had large groups and solo acts alike. 
To be a part of our Sunday Night Concert Series, visit our website and fill out our artist submission form.
Chamber Concert Series (FREE)
Do you like classical music? Are you a classical musician? We have the perfect program! Our Chamber Music Series exclusively showcases the amazingly talented classical musicians in our community. This wonderful program features an hour-long performance on the first Friday of each month, October through May, at Alpine Church in Layton. This program has many loyal patrons we see every single month. Our Chamber Music Series makes the perfect date night but also works well for student performance requirements. 
If you are a local classical musician looking for a performance opportunity, visit our website and fill out our artist submission form.
DAC the Halls
DAC the Halls is our annual Christmas concert. But don't worry, we won't make you sit outside at The Kenley Amphitheater. DAC the Halls happens across the street from The Kenley at Layton High School. 
DAC the Halls has quickly become a family tradition for many in our community. Featuring artists like David Archuleta and Nathan Pacheco, this program is a warm welcome into the holiday season. 
Free Friday Film Series (FREE)
Our Free Friday Film Series is our annual summer movie night program. Each Friday, June through August, come to The Kenley Amphitheater to enjoy a free movie under the stars. We strive to bring a variety of titles each year, including old classics and new favorites. 
Before each movie, we provide a free activity matching the theme of the night. Past activities have included photos with Ariel at The Little Mermaid, a scavenger hunt at National Treasure, and face painting at The Lion King. 
Insomnia Film Challenge (FREE)
Do you have what it takes to make a film? What if you only got 48-hours? Our Insomnia Film Challenge is our 48-hour film competition where filmmaking groups receive one prop, one line of dialogue, and two days to write, film, edit, and submit their short films. At the end of the two days, every submitted film is screened at the Kaysville Theater for the filmmakers and their guests, as well as the community. This program is free to participate in and attend.
Active Pages (FREE)
Arguably our most popular free program, Active Pages is a fall favorite for many families of our community. This program features storytellers dressed in period costumes narrating a piece of classic literature in the park. Patrons walk from station to station hearing the story unfold as they go. Past literature pieces include The Legend of Sleepy Hollow and Mary Shelley's Frankenstein. The best part? Every child under 12 gets to take home a free book. 
Snow Horse Art Gallery (FREE)
Is visual art more your thing? Then we've got you covered! Our Snow Horse Art Gallery has two locations-Davis Conference Center and Intermountain Layton Hospital. This gallery features artwork by local artists, some of who are showcasing their work for the very first time. The artwork switches out every quarter so there is always something new to see!
The Davis Conference Center location is the home of our Student Art Exhibit. High school students from around the county have the chance to submit their artwork to be hung in a real gallery. Not only that, we provide judging for these pieces of work and the winners receive over $2,000 in scholarship money each year! We also purchase a piece or two each year for our permanent collection.
What program will you attend next?
There you have it! All the other programs we provide to the entire community. Most are free to attend and all are 100% fun! Check out our events calendar for all of our upcoming events!