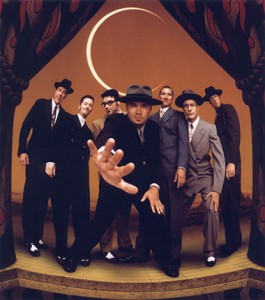 "I've never thought of our music as retro," says singersongwriter- guitarist Scotty Morris, leader of Big Bad Voodoo Daddy (BBVD), the little big band that helped define the lounge scene, as featured in the hit film Swingers . "We're an alternative to retro. We're high-octane nitro jive -loud, wild, total edge.
In 1995 BBVD was already a staple on the underground Hollywood club scene when actor-friend Jon Favreau, who hung out at the band's Wednesday night appearances at the Derby, told Morris, "I wrote a movie. Are you interested in being in it?" Morris read the script which, as he puts it, "was very much the sort of life we were all living."
A year later, after the band had also appeared on the Fox television series Party of Five (and its Music From Party of Five soundtrack album), Swingers was released. Thanks to its scene-stealing performance and the showcasing of three songs on the soundtrack album, BBVD was tagged as one of the hottest, hippest, coolest bands around. Says Morris, "Good music is not a novelty. Yes, the swing scene is a "scene," but great bands can emerge from scenes."
The first release for the Coolsville label was the band's long-awaited major label album debut. Eleven of the twelve tracks are originals, including two songs ("You & Me & the Bottle Makes 3 Tonight" and "Go Daddy-O") heard on the Swingers soundtrack album. Produced by Brad Benedict, Michael Frondelli and Morris, BBVD was recorded at the Capitol Records Tower in legendary Studio B, where greats such as Louis Prima and Nat King Cole once toiled. Their major label debut stayed in the Billboard Top 100 for most of 1998 and achieved platinum status selling 1.2 million copies. The band's second major label release, This Beautiful Life features 10 more original tracks to go along with their cool cover of the Jungle Book theme "I Wanna Be Like You" and their rendition of Frank Sinatra's "Old McDonald". Both critically-acclaimed albums have that timeless quality that Hollywood loves which has opened the doors to hundreds of uses of their songs in films and television shows.
Since 1994, BBVD has toured virtually nonstop performing more than 1,200 concerts around the world. BBVD appeals to all ages and their talent can be seen on the stages of the world's biggest and best music festivals, night clubs, county fairs, black-tie events, and wineries. As testament to BBVD's class, style, and versatility, the band has been called upon to perform at major entertainment events and behind-the-scenes parties, including the Grammy Awards, Billboard Awards, Espy Awards, the premieres for The Godfather, Titanic, and As Good as It Gets, the 100th episode party for the West Wing, and the halftime show at the 1999 Super Bowl and Orange Bowl. Additionally, BBVD has played private events for President Bush (both of them) and President Clinton.
Morris sums it up by saying "I love our music and the fact that the same guys have stuck together for more than 10 years. We get better and better as the years go by and we have as much fun now as we ever did. There aren't any rules and I never questioned what my instincts told me. We just went for it, and it's felt right from day one."
Event Sponsors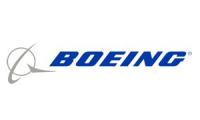 Event Dates
Friday, July 11, 2008 | 8:00 PM
Event Gallery
Related Websites