We get it–food is life! Most concert venues forbid any outside food or drink, but not The Kenley Amphitheater. We are giving you everything you need to know about the food options available at The Kenley.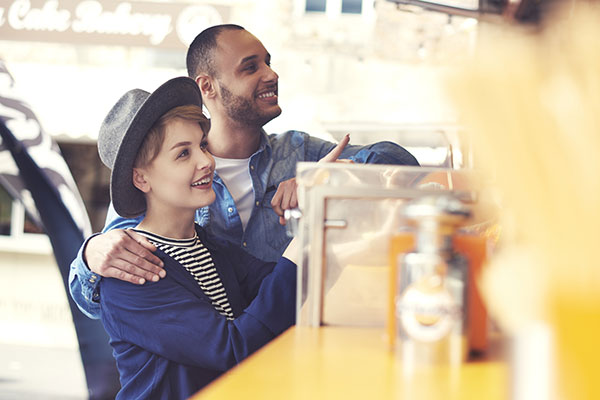 Nacho Mama's
Get it? Nacho Mama's? If you've been to The Kenley Amphitheater before, you've likely seen the Coca-Cola trailer accompanied by the tiki hut grill. That is our food vendor, Nacho Mama's. Run by a wonderful couple, Nacho Mama's has been keeping Kenley Amphitheater patrons fed for years.
Nacho Mama's provides various options, including burgers, veggie burgers, hot dogs, Philly cheesesteaks, soft pretzels, nachos, popcorn, chips, candy, ice creams, fountain sodas, and water. The food is delicious and the prices are very affordable. Trust us, the staff and volunteers of the Davis Arts Council regularly grab our show night meals and snacks from Nacho Mama's. If you haven't tried the Philly cheesesteaks, you are missing out!
Some exciting news–starting in 2020, the shiny new plaza of The Kenley Amphitheater holds a new concessions booth. That means no more Coca-Cola trailer. But don't you worry, the tiki hut grill is alive and well! With a new booth, Nacho Mama's is going to be able to offer even more delicious options. We are most excited about fountain drinks!
Pro tip: At some of our larger shows, Nacho Mama's has two lines, one that says "Food and Drinks" and one that says "Drinks Only". Head to the food line if you'd like to purchase food and drink. If you're not hungry but still hankering for a nice cold beverage, the Drinks Only line is for you.
Outside Food and Drink
Like we said earlier, outside food and drink are allowed at The Kenley Amphitheater. However, if you bring something extra tasty, you might be asked to share it with the event staff. You've been warned!
There are a variety of food options available in the Layton area. One restaurant we love is Roosters! In fact, many of our artists are served food from Roosters for dinner before their show at The Kenley Amphitheater. Located just a short 7-minute drive from the venue, Roosters offers a variety of salads, sandwiches, pizza, pasta, burgers, and entrees. If you want to eat what the stars eat, head to Roosters before the show.
Another local eatery we love is Louie's Pizza! Did you know we often provide pizza for the artists' crews after the shows? It's a lot of work to tear down the stage and the crews work up an appetite. Local pizza is always a top request. That's where Louie's comes in! If you haven't checked out Louie's before, we think you will really enjoy it. Tell them the Davis Arts Council sent you! (We don't get anything for it, just want to show them some love!)
No Alcohol
While you may be asked to share any yummy treats you bring into The Kenley Amphitheater, we do not have any restrictions on outside food and non-alcoholic drinks. However, we do not allow alcohol of any kind inside The Kenley Amphitheater, nor is alcohol sold at The Kenley Amphitheater. This rule is in compliance with the City ordinance, as no alcohol is allowed in any Layton parks. The Kenley Amphitheater is nestled in Layton Commons Park and therefore falls under the ordinance.
Hungry yet?
That is all there is to know about food options at The Kenley. If you still have some food questions, please feel free to call our office at 801-546-8575. But maybe wait until after lunch!