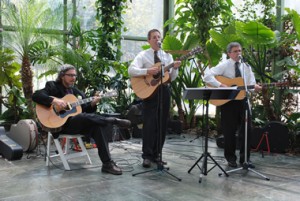 Code Blue has been performing for nearly 30 years together. Their unique style of tight harmony lines supported by superb acoustic guitars brings a balance to music not heard since the 60's and 70's. Their cover repertoire includes songs that span three decades. Classic Rock artists like Simon & Garfunkle, The Beatles, Bee Gee's, Bread, John Denver and more. Music is their passion and they love to share it with everyone.
The band consists of three members, John Diehl, Mark Milligan and Scott Flox. Each member has a career outside of the music group. John owns a staffing company, Mark is a medical doctor and Scott is a school teacher and also teaches guitar. But it is in their music where they find their connection and passion. Each has been playing and singing since they were young and continue to expand their knowledge and skill.
Code Blue has played for many weddings, charity events, two Utah Governors', countless restaurants, clubs and church events. Their favorite gig was entertaining at the River Horse on Main in Park City each Saturday evening during the 2008/2009 ski season.
Event Sponsors

Event Dates
Sunday, June 12, 2011 | 7:00pm
Ticket Prices
Free Sunday Night Concert Series $0.00