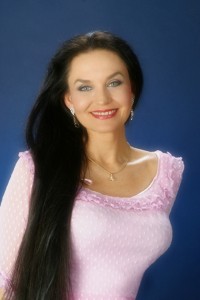 With almost three dozen hit records to her credit, she has come a long way from her roots in the Appalachian coal mining town of Paintsville, Kentucky. The youngest of eight children, Crystal was influenced by a wide variety of music growing up. She listened to folk, pop, rock and roll, Broadway show tunes, gospel and country with equal fascination. As a small child, she sang along with Lesley Gore, Brenda Lee and Patsy Cline on the radio. Later, the Beatles and Peter, Paul and Mary exerted powerful creative influences. Loretta Lynn, Crystal's older sister, also encouraged her. While growing up, Crystal traveled and sang with Loretta for a few weeks each summer.
While still in school Crystal signed her first recording contract. Her debut single, "I've Cried (The Blue Right Out of My Eyes)," was written by Loretta and reached the Top 25 on the national country music charts. Three more singles were released during the next three years and each found a place on the charts.
Crystal's earliest albums began to reflect her unique creative personality. Crystal Gayle, Somebody Loves You and Crystal yielded a bumper crop of smash singles. These included "Wrong Road Again" (her first single produced by Allen Reynolds and her first top ten record), "Beyond You," "Somebody Loves You," "I'll Get Over You" (her first #1 hit) and "Never Miss A Real Good Thing." With her fourth album, We Must Believe In Magic, Crystal became the first female country artist to achieve platinum sales status. This album included the international country and pop smash "Don't It Make My Brown Eyes Blue." Her next album, also platinum, When I Dream, contained the title song and "Talking In Your Sleep," which was BMI's most played country song in 1978. This impressive list grew with Miss The Mississippi, her fourth gold album, and it, along with albums such as These Days and Hollywood Tennessee, produced the hits "Half The Way," "If You Ever Change Your Mind," "The Woman In Me" and "Livin' In These Troubled Times." During this period Crystal recorded the soundtrack for Francis Ford Coppola's acclaimed film "One From The Heart" with Tom Waits.
In 1982 Crystal recorded her first ever duet single, the chart-topping "You and I," with Eddie Rabbit. Her True Love LP produced hits Such as "Baby What About You," "'Til I Gain Control Again" and "Our Love Is On The Faultline." Crystal continued her string of hit albums with the release of Cage the Songbird, Nobody Wants To Be Alone, Straight To The Heart, Nobody's Angel, Ain't Gonna Worry, Three Good Reasons and Best Always. Crystal also recorded a popular Christmas collection, A Crystal Christmas, and a duet album with Gary Morris, What If We Fall In Love, which included the hit singles "Makin' Up For Lost Time" and "Another World," the theme song from the hit TV soap opera. Crystal guest starred on several episodes of "Another World" where she was stalked by a ruthless killer.
Crystal has a shelf full of awards to go along with her extraordinary run of hit singles and albums. Her first major ward was Most Promising Female Vocalist in 1976 from the Academy of Country Music. This promise was realized when Crystal was named Country Music's Female Vocalist of the Year three times by the Academy of Country Music, twice by the Country Music Association and three times at the American Music Awards. Crystal won a Grammy for her extraordinary performance of her world-wide hit "Don't It Make My Brown Eyes Blue." The American Music Awards also recognized her artistry and beauty by naming her its Favorite Female Country Video Artist.
Crystal has had two highly acclaimed CBS prime time TV specials, the Crystal Gayle Special in 1979 and a year later, Crystal, followed by and HBO concert special. She appeared in Bob Hope's historic NBC-TV special, On The Road To China, and has hosted many specials such as the American Music Awards, Academy of Country Music Awards and A Crystal Christmas From Sweden. Extensive touring has taken Crystal to Japan, England, Canada, Ireland, Germany, Spain, Sweden, Finland, Holland, Australia, Hong Kong and the Philippines. She also performs over 100 concerts a year in the United States.
Crystal has always been generous with her time and efforts on behalf of charitable and community causes. In 1988 she received the Waterford Crystal "Celebration of Light" award in recognition of her many charitable activities. Crystal has recorded the theme song for the Make-A-Wish Foundation and served for several years as a co-host of the Arthritis Foundation Telethon.
Crystal has released two inspirational albums. He Is Beautiful and Someday, which was nominated for a Grammy award, is a collection of primarily original material. A beautiful music video of the title track was filmed in Athens, Greece. Someday contains thirteen songs and hymns which highlight her faith by sharing a hopeful message of abunda
Event Sponsors
Event Dates
Wednesday, July 29, 2009 | 8:00 pm
Event Gallery