with a special tribute to Davy Jones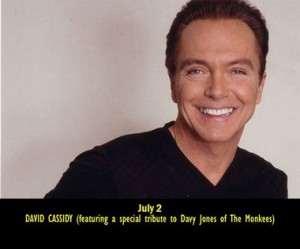 Davy Jones of The Monkees was scheduled to perform as part of the 2012 Summer Nights with the Stars season (on June 28, 2012). His longtime friend David Cassidy joins us on July 2 to pay tribute to the music of a generation, including his personal tribute to the music and magic of Davy Jones.
+++
David Cassidy rose to stardom in The Partridge Family. From television to concert tours to Las Vegas productions, Cassidy has made his mark! By the end of 1970, David had the #1 selling single of the year and record of the year, and garnered multiple Grammy nominations. His likeness appeared on everything from posters to lunchboxes. To date, his records have sold well over 30 million copies worldwide and have been recognized with over 24 gold and platinum recordings. These include such hits as "Doesn't Somebody Want To Be Wanted," "I Woke Up In Love This Morning," "Breaking Up Is Hard To Do," and of course, "I Think I Love You," the bestselling record of 1971.
Despite the stardom he has enjoyed as a singer, songwriter, and producer, David thinks of himself as an actor first. His credits include work on Police Story, which earned him an Emmy nomination. He starred in the original Broadway production of Joseph and the Amazing Technicolor Dreamcoat. He has also appeared on stage in London's West End.
In 1996, David took on his next challenge and moved to Las Vegas to star at the MGM Grand in the $75 million extravaganza EFX.
Despite the peaks and valleys of his professional and personal life, David has always been able to regenerate his success by keeping his perspective and acute sense of humor. "I'm an optimist. I mean, you have to be with my career," he laughs.
Event Sponsors
Event Dates
Monday, July 2, 2012 | 8:00pm
Ticket Prices
Orchestra | $44.00
Reserved | $37.00
General Admission | $19.00
Event Gallery