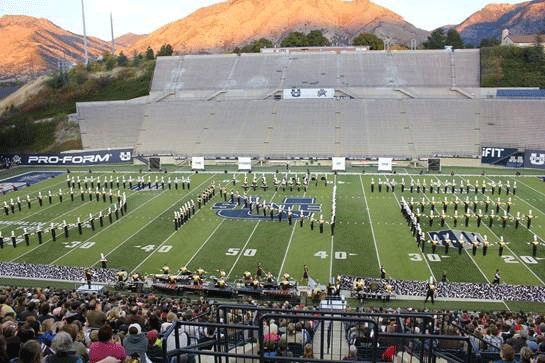 June 4, 2017 | 7 PM
The Davis High School band program enjoys a tradition of excellence dating back nearly 100 years to the beginning of Davis High. In 1990 Steven R. Hendricks took over the band program who is, by far, the longest tenured band director in Davis High history. Since 1990 the band has become one of the most recognized groups at Davis High and has established itself as one of the finest programs in the country. It is currently the largest high school band program in Utah. In 1998 the Wind Ensemble gave the most prestigious concert performance in school history—a performance at the Midwest International Band and Orchestra Clinic in Chicago, Illinois to a standing room only audience of band directors and composers. The marching band has established itself as one of the finest in the country. This group has earned scores at regional competition that rank them among the top 25 nationally and has performed twice at the Pasadena Tournament of Roses Parade (2003 and 2013). Davis High is the only school in Utah history to qualify three bands for the State Concert Band Festival (they have accomplished this five times). In 2010 and again in 2015 all three concert bands from Davis earned a superior rating at state. The band program is also home to one of the top Winterguard programs in the state and the seven time reigning winter drumline state champions. Moonlight Serenade, the dinner dance event first conceived as a single night fundraiser in 1985, has become a huge four day event that serves nearly 1500 people.
Today the Davis High Band sets a standard for excellence virtually unmatched by other Utah high schools. The band is always one of the top two most represented bands in the Utah All State Band and Orchestra. Davis band members represent nearly a quarter of the entries at the North State Solo and Ensemble Festival. Since 1991 (26 years) the band program has earned 27 superior ratings at the State Concert Band Festival. The band has been named "Musical Ambassadors from Utah" by both Governor Leavitt and Governor Herbert. A special mention of the band was read on the U.S. Senate floor by Senator Michael Lee. Several band members have gone on to play in college on scholarship. Building on the tradition established by those who went before, the Davis High Band continues to be one of the truly exceptional organizations at Davis High School.
Approximately ten percent of the students attending Davis High School are involved in the band program. The marching band this year has 324 members ranging in age from 14 to 18 years old. These students all reside in Davis County, Utah; the majority in the cities of Kaysville, Fruit Heights, Layton, and Farmington.