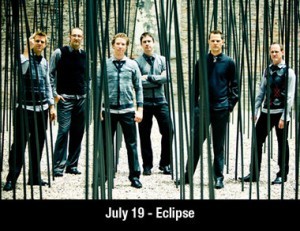 The members of Eclipse have been performing together since 1999. Eclipse's signature sound features tight harmonies, driving percussion, and infectious energy; all produced using just one instrument–the human mouth. Eclipse originally met while performing in a public relations /ambassador-oriented group that was part of the department of Programs and Entertainment at Utah State University. They began by arranging their own vocal covers of popular songs and performing them on campus. Increasing public interest and performance opportunities led to the recording of their first album, "Once," which was released in April 2001.
They auditioned for, and were accepted to compete in, the Northwest Regional Harmony Sweepstakes Competition. They took first place and were featured at the National Competition in May 2001 with the 8 other Regional winners from around the nation. In September 2001, Eclipse was asked by Kenny Ortega, Olympic Ceremonies Director, to perform a featured number in the Opening Ceremonies for the 2002 Olympic Winter Games. This led to other opportunities, including a featured spot in the Closing Ceremonies and a series of appearances at the Medals Plaza opening for such acts as Brooks & Dunn, Nelly Furtado, and Train.
Eclipse released their second album, "Think Twice," in October 2002. They also became the 2002 winners of the Rocky Mountain Regional Harmony Sweepstakes. In 2003, Eclipse was named "Best Vocal Group" in Utah's Best of State awards and "Group Recording Artist of the Year" in the Faith Centered Music Association's Pearl Awards. They released their third album, a Christmas CD called "Three Kings" in October 2003.
In 2004, Eclipse received three more Pearl Awards, including "Holiday Album of the Year," and were the runners-up for "Best Holiday Album" in the Contemporary A Cappella Recording Awards. They also received two Just Plain Folks Music Awards (the world's largest music awards program, honoring independent musicians in over 85 countries).
From 2005-2007 Eclipse focused on their show, traveling throughout the U.S. and Asia. In 2005 they released the fourth album, "For Show," a live album.
After eight years of sharing their music, it was with this gratefulness in mind that they released their fifth album, "Grateful Praise," an album that could express the notion that worship through music transcends style.
In 2011 Eclipse released a second Christmas album, "It's Christmas Time."
In 2012 Eclipse released their seventh studio album, "Got It Covered." This album was focused on current popular hits arranged with the signature Eclipse sound. They also launched an official You Tube Channel and released videos for each of the "Got It Covered," tracks.
In 2013 and 2014 Eclipse has focused on recording new music and performing domestically. Eclipse has released several new videos (digital downloads available on itunes). Eclipse has more new singles in the works scheduled to release this year.
Eclipse looks forward to returning to the Kenley Amphitheater on July 19th to perform a mixture of new and old songs that are sure to entertain all ages.
Event Sponsors

Event Dates
Saturday, July 19, 2014 | 8:00pm
Ticket Prices
Orchestra | $20.00
Reserved | $15.00
General Admission | $10.00
Event Gallery