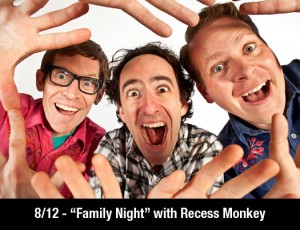 It is a goal of the Davis Arts Council to make art accessible. To that end, we are committed to providing a "Family Night" at the Kenley Amphitheater to introduce the youngest members of our community to a live-performance experience. "Family Night" is back for a fourth year and better than ever!
Recess Monkey is the nationally acclaimed trio of teachers—Drew Holloway (vocals/guitar), Jack Forman (bass/vocals), and Korum Bischoff (drums/vocals)—who make music for kids and families that truly rocks. Recess Monkey's high energy live show is a highly interactive mixture of singing, dancing and laughing, a musical adventure for "kids" ages 3 to 103.
Known for prolific, eclectic musical output and their contagiously exciting live shows, Recess Monkey strives to strike a balance between kid-centric ideas and musical authenticity. Lyrically, they weave jokes and puns together with universal childhood themes, speaking to both kids and their parents simultaneously with catchy, melodic songs.
"These kids' songs are awesome! There are bands you can't go wrong with, and this is one of them." – USA Today
Call the box office to ask about the "Family Pass On The Grass" for a family of up to six for only $30!
Event Dates
Monday, August 12, 2013 | 8:00pm
Ticket Prices
Reserved | $10.00
General Admission | $8.00
Family Pass on the Grass (up to 6) | $30.00
Event Gallery