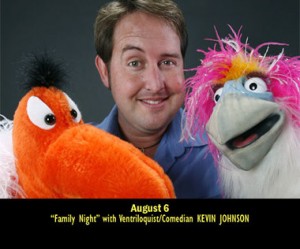 It is a goal of the Davis Arts Council to make art accessible. To that end, we are committed to providing a "Family Night" at the Kenley Amphitheatre to introduce the youngest members of our community to a live-performance experience. "Family Night" is back for a third year and better than ever!
This year we bring you the incredible talent of ventriloquist Kevin Johnson. Along with his fine feathered friends, Clyde and Mathilda. Kevin has won the hearts of millions by performing on shows such as America's Got Talent and The Late Show with David Letterman. Kevin has the unique ability to appeal to children, seniors, and everyone in between.
Kevin has been performing as a ventriloquist, comedian, and magician from a young age. When he was 9 years old, his parents bought him a pull-string dummy for Christmas and he spent four years perfecting his talent. He was introduced to the stage by his grandfather, Harley Noles, who performed magic shows throughout Colorado. He encouraged Kevin and told him, "If you get good enough, you can open for my show." At the age of 13, he opened for his grandfather with a 5-minute act using a wooden puppet (Raymond) that his grandfather had made for him. This was the beginning of a life-long passion that would take Kevin around the world.
Kevin has been a featured performer aboard the Disney Cruise lines.
Ask the box office about the "Family Pass on the Grass." A family of up to six can enjoy the show for only $30.
Event Dates
Monday, August 6, 2012 | 8:00pm
Ticket Prices
Orchestra | $15.00
Reserved | $12.00
General Admission | $8.00
Family Pass on the Grass (up to 6) | $30.00