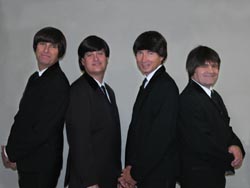 Tom Coburn as John Lennon
Born in southern California, Tom was inspired at an early age when he saw the Beatles for the first time in 1964. Since that time, Tom learned to play guitar, bass, harmonica, piano, and to sing. He is truly fulfilling his vision as he tours with Imagine. Tom joined the group after hearing about auditions. He says, "I showed up and Lennon's part was the only one still available, so I took it."
Richard Fazzi as Paul McCartney
Richard Fazzi was born and raised in San Jose, California. As is the case with so many other musicians, he was inspired by four guys he watched perform on the Ed Sullivan Show that Sunday evening in February of 1964. Rich started with four years of formal guitar lessons and when he joined his first band, they had no bass player and nobody wanted to play bass so he said, "Ok, I'll try it." It quickly became his true love. He wasn't planning on doing any vocals, but again, no one else wanted to sing so he said, "Okay, I'll try singing." Rich has years of recording and touring experience playing many different styles and has been a member of several Beatles tribute bands. In addition to playing guitar and bass, he also plays keyboards.
Brad Armstrong as George Harrison
Brad has had a love for the music of the Beatles as long as he can remember, but it wasn't until he was 16 years old and heard Sgt. Pepper on a good stereo that he was truly hooked." It wasn't long after that he bought a bass guitar and joined a band. "My first paid gig was New Year's Eve (in a bar) when I was 17. I had to get a letter from some council member in order to be there." Since that time, Brad has performed with such notable acts as The Drifters, The Coasters, The Crystals, and the infamous Salt Lake area group, Spanky and The Wankers.
Dan "Dango" Burt as Ringo Starr
Daniel Burt was born and raised in Salt Lake City, Utah. Along with being an avid sports fan, he was just as hip with the music scene. He heard and loved everything from Bill Haley to Elvis, from Leslie Gore to The Everly Brothers. When the Beach Boys came along he thought he had died and gone to heaven. Dan played in a band called "Spring Fever" which, in 1968 released a single on Capitol Records called "Stop". A couple of the band members were drafted into the Vietnam War and the band broke up in 1969. After being out of the music business for over 20 years, the opportunity came to a part of Imagine.
Event Sponsors

Event Dates
Saturday, July 26, 2008 | 8:00 PM
Event Gallery
Related Websites