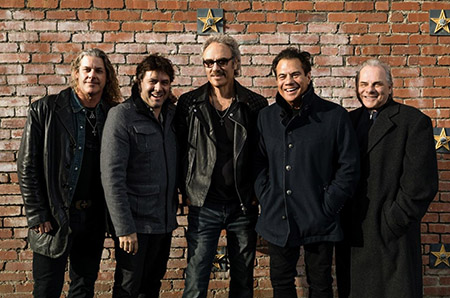 We recently had the opportunity to speak with Cory Lerios from Pablo Cruise. Cory is a founding member of Pablo Cruise, forming the band with David Jenkins and Stephen Price in the early 70s. The band spent the next decade recording music and touring the world before taking a 20 year hiatus. In 2005, they came back together and have been performing in venues, in and around California, ever since!
We asked Cory about his favorite on stage moments, technical difficulties, and what advice he has for aspiring musicians in today's music industry. Check out our interview!
Q: How did Pablo Cruise begin?
A: We were all from the bay area, from San Francisco Bay area, the original members of the band, and we were part of a band that was on Warner Brothers Records and nobody was real happy with the band. So we split off just to start a new band. And that's when Pablo Cruise was born. And this was 1973 and we start playing around all over the place,  anywhere, with anybody that would have us. And then we finally signed with A&M Records. So in 1975 we made seven albums with them, plus a couple of greatest hits and we had some big records in the late 70s and early 80s. Um, you know, hit singles and sold a lot of albums. So we toured a lot then with a lot of bands, played all over the United States and in Japan and Canada. And then in 1983 (84), we put an album out. It didn't do a lot of business and, so we all kind of just stopped, and all went in different directions.
But you know, from 1983, or I would say 1985 to 2005, we just didn't do anything. We all went different directions and we just sort of left it just in the state of…with the possibility of putting it back together, which is what we did in 2005. We put it back together and were doing just a few shows because we were all doing other things. I've been in the TV business since 1985 and been writing for TV shows, underscore and themes and things like that. So that kept me super busy and also not really available to go out on the road and tour. Then once we put the band together, you know, we've really kind of been ramping it up in there over the last couple of years. We've really been playing a lot. Actually this summer was the probably the most shows we will have done since we put it back together.
Q Do you have a favorite onstage moment from your years of performing?
A: You know there were many, I'd have to say there were many favorite moments. I mean, when the band was really, you know, at kind of the top of its game, we played some pretty large venues. We did a lot of shows with the Eagles and Fleetwood Mac and Beach Boys. And those were really huge, huge audiences. I mean 50,000 people and up, so it was pretty overwhelming but it was definitely a highlight. When you find yourself in that position, where your always dreaming about having some hits and being able to play in front of some large crowds, but when it really actually happens, the whole thing is somewhat surreal, you know? And we had about 10 years of surreal life.
Q: With playing in front of crowds that large, did you ever suffer from stage fright?
A: You don't really, no. I think honestly you get more concerned when you're playing like smaller rooms. I'm sure you're familiar with The Egyptian in Park City. That's a great room, but it's only like 350 people. So it's way more intimate and the way you handle the show is way different than when the way you'll handle it on the stage with just thousands and thousands of people. It's a completely different experience, you know, from our end, from the stage end.
Q: Have you ever had any technical difficulties? Or embarrassing mishaps on stage?
A: That's a funny question. You know, there are technical difficulties sometimes they can become… they're not necessarily so embarrassing, but they're detrimental to the show and the pace of the show. I think in one place we played up in Lake Tahoe, California, and it was a beautiful day, big crowd outside. And the sound was…there was no sound for about an hour. And it was right when we were introduced. So we went on stage and then, no sound. To the point, there was no sound to even tell the audience like, "Hey, we're really sorry, we're gonna come back." We didn't even have a megaphone. I mean, it was very, uh, uncomfortable. But somehow, magically, after about an hour, they got things working. But it was an outdoor show and they had generators. The generators weren't working properly and so it's a pretty stressful moment, especially when you're been introduced and you're on stage and there's nothing.
Q: Do you have any pre-show rituals?
A: Well, we warm up. We have a lot of vocals in the band, there are four lead singers, we harmonize a lot and we warm up before a show, probably a good 30 minutes before we go on stage. You know singing all our parts and making sure it was in voice, getting everybody in voice so we can do good show.
Q: Do you have a favorite backstage snack? Or something that always needs to be in your rider?
A: Um, vodka. (Laughter) No, it's funny with food and our backstage rider, I mean they have a pretty big rider for the food before the show and after the show. But truth is a lot of us don't really eat before a show or even after. So usually, when we get back to the hotel, maybe we'll eat.
Q: Do you have any advice for anyone looking to pursue a career in the music industry?
A: Well, the thing is, is the entire paradigm has shifted from where it was when Pablo Cruise started, or any of the bands from the 70s and 80s, and even the 60s, even the 90s. I mean, you know, if you get into some of the bands that made records and actually had hit songs on the radio, and radio was really the place where people found music. It's like now people find music, you know, streaming and Spotify, and so the opportunities for new musicians and people coming up or actually, pretty open but you gotta just be unbelievably persistent. I mean, you have to just put the blinders on and work really, really hard every single day, honing your craft. And, I also really stress you have to play live. I mean, you have to see bands live these days, because there's so much music out there. If you go to Spotify, it's like there's just literally millions of songs, but not everybody can perform and captivate an audience. So my advice to new bands is just to not only make great record, but to be able to represent it on stage.
Q: Is there anything else you's like to share with our audience ahead of your show at The Kenley Amphitheater?
A: We're just really looking forward to coming back to Utah!
The Pablo Cruise concert at The Kenley Amphitheater is Saturday, July 20, 2019 at 8 PM. Tickets are available at www.tickets.davisarts.org