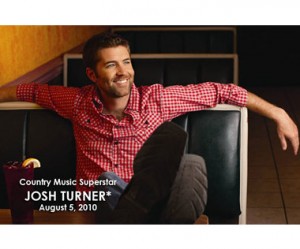 Since earning a standing ovation as an unknown singer on the Grand Ole Opry stage in 2001 with his impressive delivery of Long Black Train, Josh Turner has established himself as one of the most identifiable male vocalists in country music. Real life – including heartaches, happiness, fishing holes, and everything in between – has had a way of finding itself in the middle of Josh Turner songs since he first burst onto the national country music scene.
The Hannah, S.C. native has sold more than 4 million albums and garnered two multi-week No. 1s (Your Man and Would You Go With Me). His debut album was certified platinum for more than 1 million copies sold. His current album, Haywire has produced the number one hit on the country charts, Why Don't We Just Dance.
Six years after his Opry debut, he was inducted into the prestigious organization, becoming one of the youngest artists to receive such an honor. He recorded a CMT special with his musical hero, Randy Travis, and is currently touring with country superstar, Alan Jackson.
"For me, it is icing on the cake," he says of his success. "My biggest goal in life when I was growing up was to find the right woman to marry and get a record deal. I've accomplished both. "I don't ever want to take anything for granted," he says. "I've learned from certain people that it takes a lot of hard work, passion and love for what you do to have longevity in this career."
Event Dates
Thursday, August 5, 2010 | 8:00pm
Ticket Prices
Orchestra | $75.00
Reserved | $65.00
Adult General Admission | $34.00
Senior/Child General Admission | $29.00

Josh Turner Q&A: Country star has faith, several hit songs, and no idea who Rick Astley is
by Whitney Pastorek
Josh Turner is the youngest male member of the Grand Ole Opry, and why wouldn't he be? The guy's sold millions of records and scored two No. 1 country hits ("Your Man" and "Would You Go with Me"), and his baritone could melt paint off a Buick. On the eve of his fourth album, Haywire — whose first single, "Why Don't We Just Dance," is on its way to the top of the charts, too — we interrupted Turner's tour rehearsals to chat, and apparently ask a real stumper of a first question.
Entertainment Weekly: Are you going to be offended if I sometimes think of you as country music's Rick Astley?
Josh Turner: Country music's what now?
Country music's Rick Astley.
I don't know who that is. [laughs]
You remember Rick Astley!
No, I don't.
[Lamely sings] "Never gonna give you up, never gonna let you down…" He was a pop singer in the 1980s. Are you too young to remember?
I'm not too young, I just didn't listen to pop music in the '80s. He was this young, good looking guy, but he had this crazy deep voice that sounded like it was coming out of someone else entirely. You remind me of him. I'll take it as a compliment.
You should! Why did you decide to lead with "Why Don't We Just Dance" off this album?
I feel like it's a great message for people to hear. It legitimately asks the question, Why don't we just turn off the TV and forget about all this bad news going on in the world, and dance? Why don't we just have some fun? That's what this record's all about.
Do you consider that sort of escapism part of your responsibility as an artist?
Indirectly. I feel like if I tried to assume that responsibility, I'd end up a walking disaster. I have a mission that allows me to make music. I can make music that allows people to tap their toes and clap their hands and get up and dance if they want to. My job is to use my platform in a positive way, and make a difference in people's lives.
What's your favorite track that you wrote for the new record?
Probably "The Answer." It's a song that really has a lot of power, and a lot of soul, and a song that really evolved from its original version. When I first wrote it, it sounded like a sad Vern Gosdin song, melodically. I think it's one of the best songs I've written.
I love that you just threw out a Vern Gosdin reference. You seem dedicated to a relatively traditional sound, even as much of your industry favors a poppier perspective.
I've never been into pop music. I grew up on traditional country music, and bluegrass, and gospel, and I've started to become a fan of contemporary and old-school R&B. I've always gravitated towards those artists that have grit and texture, and know exactly who they are. They're not following a trend, they just stick to what they feel is right.
What was the first album you ever bought with your own money?
Randy Travis, Storms of Life. He was the man. Still is.
What's the poppiest record you ever bought?
I definitely listened to some Michael Jackson growing up, and obviously when I was in middle school and high school, you know, I listened to the Vanilla Ices and MC Hammers of the world. But that stuff faded away. It didn't stick with me like Randy Travis's music has over the years.
You're saying "U Can't Touch This" doesn't still resonate deeply?
[laughs] It definitely makes you smile.
You have this great advantage in your voice—it's instantly recognizable. What else does it take to stand out on country radio these days?
I think a lot of it is just having a direction. Knowing exactly who you are, and putting together a great team around you. And whether it's your voice or the sound of production on your record, or the kind of songs you're writing or recording, you have to have something that says, This is who I am. When you hear a Shania Twain song, you know it's Shania Twain. When you hear Reba McEntire, you can't mistake that voice.
The men of country music have all sort of clustered together right now, and it feels like we're waiting for the next breakout star, the next Kenny, the next Keith. What will it take for that breakout guy to be you?
I'm always searching for that better song. I'm a student of what I've already done. If I quit improving, then you might as well bury me. I'm always trying to improve on what I've done, from photos to artwork to mixing to my live shows. I think the key nowadays, in today's climate, anyway, is having hits. You have to have hits. That's how you get the music out there to the people, and that's how a lot of decision-makers in this business gauge success: Is he capable of having hits?
Does that influence what songs go on your albums? Will you choose potential singles over songs you think are just good?
Oh, absolutely. One of my buddies, Shawn Camp, wrote a song called "River of Love." And I loved the song, but I knew deep down that if I put that on my record, it probably wouldn't be a hit for me. But I knew that it could be a hit for somebody else. George Strait cut it, and had a No. 1 song with it. That's a fine example. Jamey Johnson's "In Color"—that was also a song I passed on. I knew it was a good song, but it wasn't the right song for me at the time. There was no better artist to cut "In Color" than Jamey Johnson. He wrote it. When I heard it, he was singing the demo. And it was the perfect song for his voice and his personality. It took a lot for me to stand there and say, Okay, I'm willing to let this good song go, because it's not me. And I've had people fight me at my label before on that, but I don't think they see things the way I see them. [laughs]
When did it sink in that you could do this for the rest of your life?
That moment happened a long time ago, before I even came to Nashville. [laughs] I just really believe that this is what the Lord put me on this earth to do. He gave me this voice and this talent for a reason, and I'm using it for Him. There was never a Plan B.
Do you ever struggle with living out your faith in the public eye?
I don't struggle with it, but I know the limits, you know? I know how much I need to do it, and how much I don't. One thing I feel like a lot of people don't understand about me, and I feel like this has been kind of a—I don't even know what the word is, but this is one of the reasons a lot of people don't get me. A lot of people see me as this gospel singer, this strong Christian, and I think a lot of people wonder, Why is he in country music? [laughs] The thing people don't understand is, I love country music. I grew up a country boy. Country music was the form of music I could relate to, because the subject matter in those songs was stuff I was seeing every day. But that didn't mean that I wasn't a Christian. That governs each and every decision I make, whether it's in my personal or professional life. But I wasn't called to gospel music. I've never really liked contemporary Christian music. I hate to say it, but it's never been a music that's spoken to me. I feel like I was called to country music. That's where my passion is. And I think there's a reason for that. I think God is allowing me to use my talent in this industry to reach people in a positive way. And so when you hear a gospel song on my record, it's not because I wish I could do a whole album of the stuff. I've got 11 songs on my record. Each one of those 11 songs is a reflection of part of my personality or my character, or who I am. They're like personality traits, in a way. Each and every song shows a different side of Josh Turner. And that gospel song on the record is one of those 11 pieces of me.
Is there a theme you won't address because of your faith?
A lot of times it depends on how it's addressed, but one thing I won't do is get out there and sing about drinkin'. Cause I don't drink. How hypocritical would it be, even if I thought it was going to be a hit? It's not a part of who I am. And a lot of times these cheatin' songs—I grew up on cheatin' songs, but morally, I don't do that. A lot of times it's better received if it's a cover, or I'm doing it as a one-time thing for an event. But to go and put something like that on my record, you know, that's gonna be out there forever.
What's the big dream for you as an artist right now?
I think this is a long-term goal, but I want to end up in the Country Music Hall of Fame. That's always been my goal. I'm just taking it one day at a time. I realize I have to keep working hard every day, keep playing hits, and selling records. And I have to earn a lot of people's respect along the way.
And I'm assuming you'd like to be next to Randy Travis when you go in?
Both of our last names start with T…
Event Sponsors

Event Dates
Thursday, August 5, 2010 | 8:00pm
Ticket Prices
Orchestra | $75.00
Reserved | $65.00
Adult General Admission | $34.00
Senior/Child General Admission | $29.00