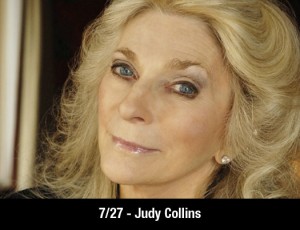 Sublime vocals, boldly vulnerable songwriting and personal triumphs: Judy Collins inspires audiences with her impressive 50-album catalog.
Judy began her impressive music career at 13 as a piano prodigy but the hard-luck tales and rugged sensitivity of folk revival music led her to embrace a life-long passion for the guitar and the pursuit of emotional truth in her lyrics.
Throughout the 1960s, Judy evoked both the idealism and steely determination of a generation united against social and environmental injustices. Five decades later, her presence still shines brightly as new generations bask in the glow of her imaginative interpretations of traditional and contemporary folk standards and her own poetically poignant compositions.
Judy Collins, now 74, is as creative as ever, writing, performing 80 to 100 dates nationwide annually, and nurturing fresh talent. Also an accomplished painter, filmmaker, record label head and musical mentor, Judy is also an in-demand keynote speaker.
Event Sponsors

Event Dates
Saturday, July 27, 2013 | 8:00pm
Ticket Prices
Orchestra | $40.00
Reserved | $33.00
General Admission | $19.00