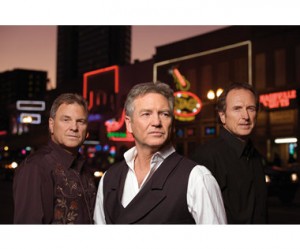 Over 50 years ago, Larry, Steve, and Rudy Gatlin started singing in their little hometown of Abilene, Texas. Their four-decade career has taken the Gatlin Brothers from dusty Texas stages to White House performances, from Broadway to Grammy Awards to the top of the country charts.
Larry went to the University of Houston on a football scholarship where he majored in English and developed a love affair with the English language that served him well in his songwriting. Larry, aided by the legendary DottieWest, moved to Nashville to write songs that would be recorded by Johnny Cash, Kris Kristofferson, Barbara Streisand, Tom Jones, and Elvis Presley.
In 1972, Larry landed a solo deal and invited his siblings to sing backup on his first two albums—1974's The Pilgrim and 1975's Rain Rainbow. The release of The Pilgrim landed Gatlin his first hit with Sweet Becky Walker. Another #1 hit, Broken Lady, captured a Grammy. The same year all three brothers were inducted into the Grand Ole Opry. In 1977 the brothers became an official trio and in 1979, they signed a deal with Columbia records. Over the next decade the Brothers scored more than a dozen Top 40 hits and several AMC awards. The Gatlin Brothers lit up major marquees and packed concert halls across America.
In recent years a ground swell has arisen, persuading them to do some selected dates that they are calling 'The Gatlin Brothers Never-Ending Reunion Tour."
The Gatlins have the best of both worlds; families and fans, plenty of work both as individuals and together. And during the day, playing as much golf as possible.
Event Sponsors

Event Dates
Friday, July 9, 2010 | 8:00pm
Ticket Prices
Orchestra | $45.00
Reserved | $35.00
Adult General Admission | $19.00
Senior/Child General Admission | $18.00
Event Gallery
Related Websites