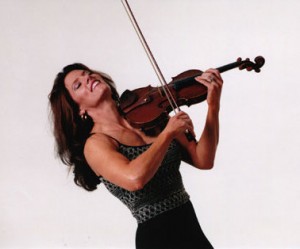 Violinist Lynnette Thredgold is a true entertainer who has the ability to share the true beauty and energy of her music with her audience. Her music reflects passion and emotion with a unique style.
Classically trained, she has played professionally for more than 25 years. Lynnette has co-produced, along with Chuck Penington of Mannheim Steamroller, three CDs: Amazing Grace, Cool Energy, and Dancing with the Red Priest.
Lynnette has performed with Debbie Reynolds, Bill Cosby, the Moody Blues, Wayne Newton, Mannheim Steamroller, Josh Groban, and Led Zeppelin's Robert Plant and Jimmy Page. Lynnette has also been a world-class competitive natural bodybuilder and was U.S. National Masters Champion in 1999. She was cast as the "Phantom" in the nationally-televised season of Women of Wrestling in 2000.
Event Sponsors

Event Dates
Saturday, June 7, 2008 | 8:00 PM
Related Websites
Event Gallery