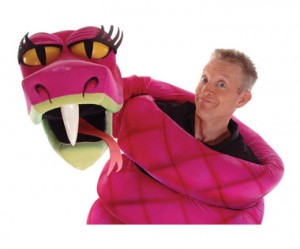 There are a very few entertainers who can truly make you laugh until it hurts and Michael Harrison is one of them. Michael Harrison is an extraordinarily talented ventriloquist, puppeteer and comedian. He has worked alongside numerous acts from The Muppets to Boyz to Men. His many talents allow him to create performances for all type of audiences. His family show is so finely tuned that Disney, the world's largest entertainment company, booked him for eight consecutive years and over 1,500 performances as the headline act for Disney Cruise Line.
Michael wrote and starred in the award winning television show, Kids in the Firehall. The show aired on the Family Channel in Canada and on Nickelodeon in the U.S. It was awarded the prestigious Bronze Apple from the National Educational Media Network, the Award of Excellence in Children's Television by the Parents Choice Foundation and the Award of Merit from The Alliance for Children and Television.
Last year Michael took his talents to a new level when he appeared on the hugely successful television show, "America's Got Talent". He was the only ventriloquist chosen to compete for the grand prize and the opportunity to perform his show in Las Vegas. He finished in the top 50 as a semi-finalist and received glowing reviews from the celebrity judges, David Hasselhoff, Sharon Osborne and Piers Morgan.
Event Sponsors

Event Dates
Monday, July 26, 2010 | 8:00pm
Ticket Prices
Reserved | $10.00
Adult General Admission | $8.00
Senior/Child General Admission | $7.00
Family Pass (GA) – Up to 6 (must be related) | $25.00
Event Gallery
Related Websites