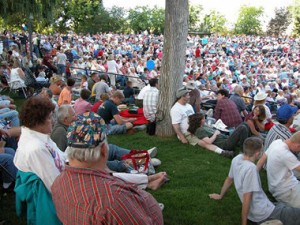 The Ogden Concert Band is in its 16th year of providing concerts in a variety of venues. Band members include teachers, university graduates, students, and many others from the local community. Dr. Thomas Root, music professor and head of the band program at Weber State University serves as Director, along with Dr. Darrell Lund as Associate Director.
The Ogden Concert Band was created in 1993 by executive order of the mayor of Ogden City to provide appropriate musical entertainment of the highest quality for the community. The Band has performed at the Utah Arts Festival, for the arrival of the Olympic torch in Ogden in 2002, and at music festivals in Hof, Germany and Taiwan. They are also a mainstay on the Davis Arts Council's Free Sunday Night Series summer program.
Their repertoire includes traditional concert music such as Copland, Gould, Bernstein, Williams, and Holst, as well as Sousa marches, patriotic songs, showtunes, and movie scores.
Event Sponsors

Event Dates
Sunday, August 26, 2012 | 7:00pm
Ticket Prices
Free Sunday Night Concert Series | $0.00