Special Engagement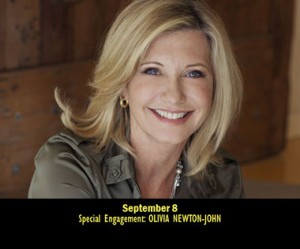 Olivia Newton-John's appeal is timeless. With a career spanning more than four decades she is still vibrant and creative.
Olivia's U.S. album debut, "Let Me Be There," produced her first top ten single and earned her the Academy of Country Music "Most Promising Female Vocalist" and a Grammy Award as Best Country Vocalist. With more than 100 million albums sold, Olivia's successes include four Grammy Awards, numerous Country Music, American Music, and Peoples Choice Awards, ten #1 hits including "Physical," which topped the charts for ten consecutive weeks, and over 15 top 10 singles.
In 1978, her co-starring role with John Travolta in "Grease" catapulted Olivia into super-stardom.
In the 90's, Olivia overcame a battle with breast cancer. She used the experience to become an inspiration to millions of people battling cancer. Olivia has become well-known and respected for promoting awareness of the importance of early detection.
In 1999, Olivia returned to work, touring extensively. She was thrilled to perform at the Opening Ceremony of the Sydney 2000 Olympics. In 2002, Olivia was inducted into the prestigious Australian Music Hall of Fame at the 16th Annual Aria Awards. In 2006 she received a Lifetime Achievement Award, presented by friend John Travolta.
In 2010 Olivia also appeared as herself in two episodes of the hit series, "Glee," adding another Top 100 hit to her credits with a new version of "Physical" sung with Jane Lynch.
Olivia continues to spend time in the recording studio. Billboard celebrated Olivia's music by saying, "Newton-John is soulfully committed to every word she sings."
Event Dates
Saturday, September 8, 2012 | 8:00pm
Ticket Prices
Orchestra | $79.00
Reserved | $69.00
General Admission | $41.00
Event Gallery