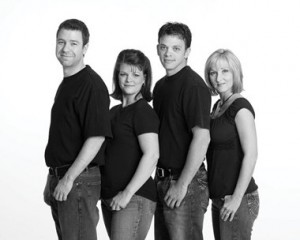 On The Air is a group of four singers who have come together to give new life to the music of the 1940s and '50s—what they consider to be some of the best music of the last century! They have performed in many different venues across the state from the Governor's Mansion to airplane hangars.
The members of On The Air—Julie Nelson Blatter, Kelly Griffiths, Angela Morgan Maloy, and Bart Olsen—have many years of collective experience in theater, film, and ensemble performance. They came together in 2007 and find joy and inspiration in this music and love sharing it with their own children.
The program follows an old radio show format, complete with commercial jingles. The original close harmony arrangements such as "I'll Be Seeing You" and "Over the Rainbow" are by John Morgan. On The Air is delighted to share this music with the Davis Arts Council community!
Event Sponsors

Event Dates
Sunday, July 8, 2012 | 7:00pm
Ticket Prices
Free Sunday Night Concert Series | $0.00